Helen Thomas' school scraps award over 'Zionists' remark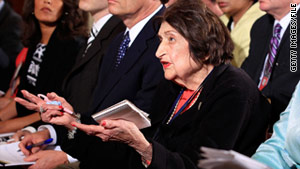 Helen Thomas covered every presidential administration since John F. Kennedy's in the early 1960s.
STORY HIGHLIGHTS
Wayne State University will no longer give out award in honor of Helen Thomas
The school says comments this week from the longtime journalist prompted action
Thomas reportedly said "Zionists" control Congress, White House and Hollywood
She abruptly retired last spring after saying Jewish people should leave Israel
(CNN) -- The alma mater of journalist Helen Thomas will not bestow an award that had been given in her name, making the decision after the 90-year-old scribe made more controversial comments about Jewish people.
Wayne State University, the Detroit, Michigan, institution that Thomas graduated from in 1942, said in a statement Friday that the school will no longer give out the Helen Thomas Spirit of Diversity in the Media Award.
"Wayne State encourages free speech and open dialogue, and respects diverse viewpoints," the school's statement said. "However, the university strongly condemns the anti-Semitic remarks made by Helen Thomas during a conference yesterday."
Thomas abrupty retired earlier this year from her position as a White House columnist for the Hearst media chain after a YouTube video circulated in which she told a rabbi that Israel should "get the hell out of Palestine." She also said Jewish people should leave Israel and go home to "Poland, Germany ... and America and everywhere else."
Then, at a diversity conference Thursday in Dearborn, Michigan, Thomas voiced her opinion on Jewish people in the United States.

Should Helen Thomas be given a break?
According to the Detroit Free Press and Detroit News, she said, "Congress, the White House and Hollywood, Wall Street are owned by the Zionists. No question."
Zionist is a term used to describe those who pushed for the creation -- and today champion the current state and future existence -- of modern-day Israel.
As Thomas' comments circulated Friday, the Anti-Defamation League issued a statement urging all schools and groups to take back any honors they've given to Thomas, saying she "clearly, unequivocally revealed herself as a vulgar anti-Semite."
The Wayne State award doesn't fit this category, since it has been given for the past decade in recognition of Thomas -- but not to her, instead being given to journalism standouts. According to a description on the school's website, "The award was established to recognize her leadership role in promoting diversity in the media and the issues of race in America."
Thomas was considered the dean of the White House press corps, having covered every presidential administration since John F. Kennedy in the early 1960s.
The Detroit native, who is of Lebanese descent, was long known for her strong opinions and was seen as a pioneer for female journalists.
Yet her statements last spring prompted widespread condemnation -- and an apology from Thomas. Her agent dropped her, and Hearst said that Thomas would retire, effective immediately. She also lost her coveted front-row seat in the White House briefing room.
She has made no comment on Thursday's remarks.