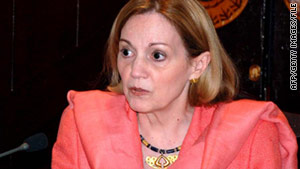 Cables show that U.S. Ambassador Anne Patterson worried that Pakistan wasn't letting the U.S. help it get rid of uranium.
STORY HIGHLIGHTS
U.S. ambassador said to be concerned about highly enriched uranium at an aging reactor
Document: President Zardari told Biden that Pakistani military might "take me out"
Saudi king believes Zardari is obstacle to removing terrorist safe havens, documents say
(CNN) -- U.S. diplomatic cables about Pakistan cited by The New York Times reveal a relationship full of anxiety: about the country's uranium stockpile, its role in the struggle against Islamic militants and its economic crisis.
CNN cannot independently verify the content of all the cables from the website WikiLeaks, known for releasing official secrets. The Times has not posted the documents on which its reporting is based, and they are not available on the WikiLeaks site, which has come under intermittent attack by hackers. However, some have been published in full by The Guardian newspaper in London.
The cables show that the U.S. ambassador in Islamabad was deeply concerned about a supply of highly enriched uranium at an aging research reactor, allegedly enough to build several "dirty bombs."
The Times cites a cable dated May 27, 2009, in which Ambassador Anne Patterson said the Pakistani government was dragging its feet on an agreement that would allow the United States to remove the material. She said the Pakistani government was concerned that "the 'sensational' international and local media coverage of Pakistan's nuclear weapons made it impossible to proceed at this time."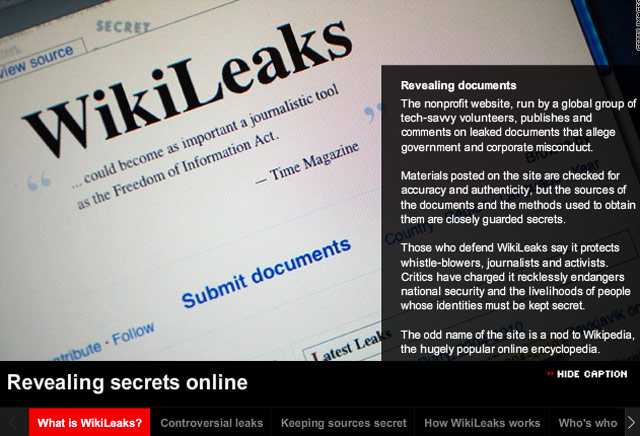 Revealing secrets online

Gibbs responds to WikiLeaks disclosure

WikiLeaks dump: Putting lives in danger?

Should secret documents be made public?
The Times reports the "cables reveal American maneuvering as diplomats try to support an unpopular elected government that is more sympathetic to American aims than is the real power in Pakistan." One document cited says President Asif Ali Zardari had told Vice President Joe Biden of his fear that the Pakistani military might "take me out."
Other governments are also preoccupied by Pakistan, according to a CNN survey of the leaked cables. In a cable from this year, Turkey's former ambassador to Pakistan said the Pakistani military, though displeased with Zardari, remained unwilling to intervene. "Nevertheless, senior officers' patience may not be infinite."
A more brutal assessment came from King Abdullah of Saudi Arabia. In a cable sent to Washington in February, Ambassador James Smith writes: "King Abdullah firmly believes that Asif Zardari is the primary obstacle to the government's ability to move unequivocally to end terrorist safe havens there ('when the head is rotten, it affects the whole body')."
The king told Gen. James Jones, who was U.S. national security adviser at the time, that U.S. development assistance would rebuild trust with the army, which he asserted was staying out of politics in deference to U.S. wishes, rather than doing what it "should."
Another cable covers a wide-ranging discussion between the then-head of Canadian intelligence (CSIS), Jim Judd, and a senior U.S. diplomat, Eliot Cohen, in 2008. "Cohen briefed his recent trip to Islamabad and Peshawar, noting his alarm at the degrading economic, political, and security situation there, and its implications for Pakistan, Afghan, and regional stability."
The cable continues: "Judd responded that Dr. Cohen's sober assessment tracked with CSIS' own view of Pakistan, and that 'it is hard to see a good outcome there.' "
And a cable from June 2009 said Israeli Defense Minister Ehud Barak told U.S. diplomats that Pakistan was his "private nightmare," suggesting that the world might wake up one morning "with everything changed" after a potential Islamic extremist takeover.
Russian officials have also expressed deep anxiety about Pakistan to their U.S. counterparts. A cable about a meeting on missile proliferation a year ago reads:
"Russia assesses that Islamists are not only seeking power in Pakistan but are also trying to get their hands on nuclear materials. ... There are 120,000-130,000 people directly involved in Pakistan's nuclear and missile programs, working in these facilities and protecting them. However, regardless of the clearance process for these people, there is no way to guarantee that all are 100% loyal and reliable."
The Russian analysis continues: "Over the last few years extremists have attacked vehicles that carry staff to and from these facilities. Some were killed and a number were abducted and there has been no trace seen of them. Also, even if places are well protected, transportation of materials is a vulnerable point.
According to the New York Times, the cables reveal one previously undisclosed example of cooperation. Last fall, the Pakistani army secretly allowed 12 U.S. Special Operations soldiers to deploy with Pakistani troops in the violent tribal areas near the Afghan border. But the Americans were forbidden to conduct combat missions, presumably because of the hostility of the Pakistani public to such a role.
It seems Patterson, who left Islamabad in October after a three-year stint as ambassador, was unconvinced that more aid would persuade Pakistan to abandon militant groups. The New York Times cites one cable in which she wrote, "There is no chance that Pakistan will view enhanced assistance levels in any field as sufficient compensation for abandoning support for these groups, which it sees as an important part of its national security apparatus against India."
And on February 22, according to the Times, she wrote: "Pakistan's civilian government remains weak, ineffectual and corrupt. ... Domestic politics is dominated by uncertainty about the fate of President Zardari."
FOLLOW THIS TOPIC