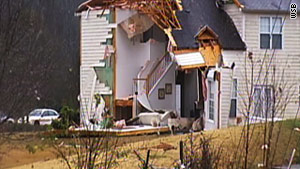 At least 10 homes in suburban Gwinnett County, Georgia, were damaged by a possible tornado.
STORY HIGHLIGHTS
NEW: Storm damages at least 56 homes in Gwinnett County, Georgia
A tornado watch extends into the Carolinas
Four tornadoes are confirmed in Mississippi
Atlanta, Georgia (CNN) -- A severe storm system had the Carolinas and Virginia in its sights late Tuesday after it slammed into metropolitan Atlanta, damaging dozens of homes and snarling the afternoon commute.
At least 56 homes and one business in suburban Gwinnett County, Georgia, were damaged by a possible tornado, police there said. Twelve of the residences suffered major damage.
There were no reported injuries.
Video showed damaged roofs and trees in northern Gwinnett County, about 35 miles northeast of downtown Atlanta. The National Weather Service did not have a warning for the neighborhood where the damage occurred. One home was missing an exterior wall, according to CNN Atlanta affilate WSB. The siding and insulation from the home were woven into a toppled tree about 50 yards away.
"I was on my way home from work and the parents were calling us to see if the kids were OK. I knew a tornado hit at Gravel Springs [Road]; I didn't know it was going to be our house," resident Erin Birdsong told WSB.
Damage also was reported nearby in the city of Buford, according to the weather service. It was not immediately clear whether that damage was from straight-line winds or a tornado.
Most of metro Atlanta was removed from a tornado watch late in the afternoon. A tornado watch remained in effect for areas south and east of the region, including for the eastern and southeastern counties in the metro area.
The severe weather threat will shift into the central Carolinas, Virginia and Maryland, including the District of Columbia area, later Wednesday evening and overnight. A few storms will be capable of producing strong, long-lived tornadoes and damaging winds, according to CNN meteorologist Sean Morris.
Tornadoes during this time of year can be particularly dangerous because they are fast-moving and obscured by rain and darkness, Morris said.
Tornadoes are most likely to occur in the following locations: central and eastern North Carolina, including Raleigh-Durham; north central and northeastern South Carolina; and south central Virginia.
In Mississippi, state authorities dispatched emergency crews Tuesday to survey the damage after an onslaught of severe weather that injured at least 32 people, damaged property in 10 counties and cut power.
Four tornadoes classified as EF-2 hit the state Tuesday evening, according to the National Weather Service forecast office in Jackson, Mississippi. Two were in in Yazoo County, one slammed Starkville, and the fourth touched down in Raleigh. An EF-2 twister (on the Enhanced Fujita Tornado Damage Scale) produces wind gusts, estimated by damage assessments, of 110-137 mph, according to the National Oceanic and Atmospheric Administration.
Survey teams were still out surveying damage in Claiborne County and Attala County on Tuesday, the agency said.
In Attala County, storms destroyed nine mobile homes, injured six people and left parts of the area without power, the service said.
A tornado touched down in Yazoo County on Monday night, causing damage to a downtown Yazoo City courthouse and tossing debris in a wide area, according to emergency management spokesman.
The twister touched down about 8:05 p.m., according to the National Weather Service's Jackson office.
Greg Flynn, spokesman for the Mississippi Emergency Management Agency, said the damage included "a lot of windows blown out, some roof damage and very little power in the downtown area" of Yazoo City, about 45 miles north of Jackson.
No severe injuries or deaths have been reported, he said. Thirty-two people suffered minor injuries.
"We've been getting inundated with round after round after round" of heavy rain, Flynn said Tuesday morning.
Eight homes in Yazoo County suffered major damage. Two apartment buildings had major damage. One business was destroyed and seven businesses had major damage, according to emergency management officials.
Fifteen mobile homes in Oktibbeha County were destroyed, and 15 people were hurt. Widespread damage also was reported in Monroe County, where 11 were injured.
In April, at least 10 people died when a mile-wide tornado tore through Mississippi. Two of the dead were children, one of them 3 months old. Five of the dead were from Choctaw County, in the north central part of the state; four were from Yazoo County; and one was from Holmes County, also in north central Mississippi, according to the state emergency management agency.
CNN Radio's Greg Black and CNN's Sean Morris, Anna Rhett Miller and Holly Yan contributed to this report.
FOLLOW THIS TOPIC