Baby gorilla coming to Zoo Atlanta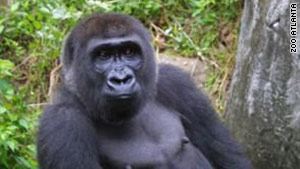 Kudzoo of the Atlanta Zoo is expecting her second baby in late spring 2011.
STORY HIGHLIGHTS
Kudzoo expecting new sibling for 4-year-old Macy Baby
Kudzoo was first-born of famed Atlanta gorilla Willie B
Veterinarians are keeping a close eye on Kudzoo's pregnancy
Atlanta, Georgia (CNN) -- A 16-year-old lowlands gorilla named Kudzoo is expecting her second baby, veterinarians at Zoo Atlanta announced Tuesday.
Kudzoo is the first-born offspring of Willie B, one of Zoo Atlanta's best-known animals, who died in 2000 at age 41. The newborn gorilla would be Willie B's third surviving grandchild.
Willie B's first 27 years at the zoo were spent in a sparse cell with only a television set to keep him company. When Zoo Atlanta finished a significant upgrade in 1988 -- complete with an extensive gorilla habitat -- Willie B easily moved into his role as family leader.
When he died, more than 8,000 people attended his memorial service.
Kudzoo's other offspring, Macy Baby, is 4 years old, and she has had at least one known miscarriage.
"We are very excited about anticipating Kudzoo's infant, particularly given the fact that generations of Atlantans have followed this family, all the way back to Willie B," said Zoo Atlanta's deputy director, Dwight Lawson. "At the same time, we are keeping a close eye on Kudzoo, as the chance remains that she could experience another miscarriage."
Due date for the new gorilla is expected to be in late spring, the zoo said.
Zoo Atlanta has the largest collection of western lowland gorillas in the United States, consisting of 23 individuals, 16 of whom were born at the zoo.
FOLLOW THIS TOPIC