Leaked cable suggests American diplomats told to gather intelligence
STORY HIGHLIGHTS
Cable: Clinton directed diplomats to ascertain names, addresses and credit card numbers
The cable was sent to 33 embassies and some U.N. mission offices
State Department denies diplomats were doing double duty
As the U.S. government responds to the latest round of WikiLeaks documents, what will it mean for world affairs? Tune in to "Larry King Live," Monday at 9 p.m. ET, for reaction and analysis.
(CNN) -- A 2009 cable sent from Secretary of State Hillary Clinton to American U.N. missions and embassies around the world ostensibly directed American diplomats to engage in intelligence-gathering.
The 8,358 word National Humint Collection Directive (Humint being Human Intelligence) "reflects the results of a recent Washington review of reporting and collection needs focused on the United Nations," according to the document made public by the whistle-blower website WikiLeaks Sunday.
The information Clinton directed the diplomats she oversees to ascertain ranged from basic biographical data such as diplomats' names and addresses to their frequent flyer and credit card numbers, to even "biometric information on ranking North Korean diplomats." Typical biometric information includes fingerprints, signatures, and iris recognition.
The cable, simply signed 'CLINTON', is classified S/NF - or 'Secret/No Foreign' - and was sent to 33 embassies and the U.N. mission offices in New York, Vienna, and Rome.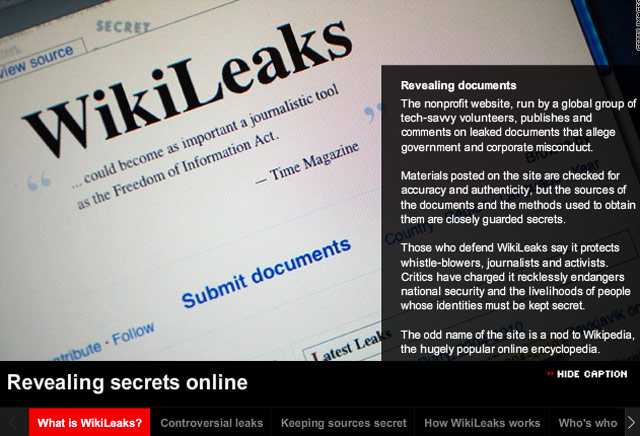 Revealing secrets online

Fallout over new WikiLeaks release
In a Twitter posting Sunday evening, State Department spokesman P.J. Crowley denied that American diplomats were doing double duty as intelligence gatherers.
"Contrary to some #Wikileaks' reporting, our diplomats are diplomats. They are not intelligence assets," the tweet attributed to him said.
He further downplayed the cable's significance by writing in a separate tweet: "Diplomats collect information that shapes our policies and actions. Diplomats for all nations do the same thing."
FOLLOW THIS TOPIC


Part of complete coverage on

What next for WikiLeaks editor and founder Julian Assange, now that he's been released on bail in the UK?

Julian Assange says the sexual misconduct charges against him are little more than an effort to discredit him and his organization.

WikiLeaks editor walks out of London court after being freed on bail nine days after being arrested for questioning about alleged sex crimes in Sweden.

In 2006, Julian Assange was apparently looking for a date. After launching WikiLeaks, he evidently created a profile on OkCupid.com.

A court in London found itself in the world's spotlight, as a small army of celebrities turned up to offer support -- and bail money -- to Julian Assange.

The founders of Openleaks.org say they are former WikiLeaks members unhappy with the way the organization is being run under Julian Assange.

Hackers who support WikiLeaks want others to replicate the attacks they say took down the websites of MasterCard and Visa.

Does Julian Assange's threat to release "Doomsday Files" from Wikileaks carry validity?


Most popular stories right now