Cables reveal difficulty of relocating some Guantanamo detainees
STORY HIGHLIGHTS
China obstructed efforts to move 17 Chinese Muslim Uyghurs
Germany considered taking seven but was warned "a heavy burden" could follow
The 17 ended up in Palau, Bermuda, Albania, and Switzerland
Washington (CNN) -- The relocation of 17 Chinese Muslim Uyghurs detained at Guantanamo Bay was a thorny issue for the United States, according to cables released by the website WikiLeaks.
Attempts to find new homes for the 17 detainees was met with resistance because of fear of retribution from China.
At one point, Germany considered accepting seven of the Uyghurs. But the government was "subsequently warned by China of 'a heavy burden on bilateral relations'" between Germany and China if the Germans accepted the detainees.
According to one cable, German Chancellery Security and Foreign Policy Advisor Christoph Heusgen said relocation of the Uyghurs "would be 'too difficult,' but that Germany could probably accept '2-3 others' from Guantanamo."

Fallout over latest WikiLeaks release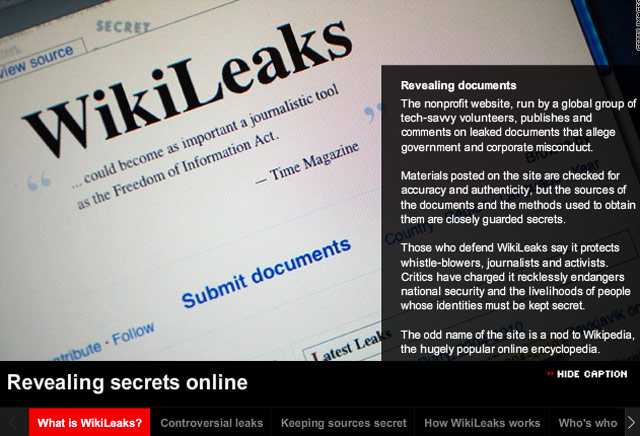 Revealing secrets online
The document also summarized Heusgen as saying, "If Germany were to take any [Uyghurs], it would be best to do so in combination with other European countries to prevent China from focusing its opposition on any one country."
In another cable, this one from the U.S. Embassy in Bishkek, Kyrgyzstan, the Chinese ambassador to Kyrgyzstan, Zhang Yannian, called America's refusal to relocate the detainees to China a "slap in the face."
The missive quotes Zhang as saying, "Releasing 17 from Guantanamo is an unfriendly act toward us."
"He then went on at length about what a 'slap in the face' it was to China that the [Uyghur] detainees were not going to be returned to their homeland but instead shipped to Germany, where reportedly they had already been granted refugee status," the cable says.
It goes on to say that Zhang "did imply that the Guantanamo situation had made China look for ways to hit back at the U.S."
The 17 Uyghurs were eventually relocated to Palau, Bermuda, Albania, and Switzerland.
FOLLOW THIS TOPIC


Part of complete coverage on

What next for WikiLeaks editor and founder Julian Assange, now that he's been released on bail in the UK?

Julian Assange says the sexual misconduct charges against him are little more than an effort to discredit him and his organization.

WikiLeaks editor walks out of London court after being freed on bail nine days after being arrested for questioning about alleged sex crimes in Sweden.

In 2006, Julian Assange was apparently looking for a date. After launching WikiLeaks, he evidently created a profile on OkCupid.com.

A court in London found itself in the world's spotlight, as a small army of celebrities turned up to offer support -- and bail money -- to Julian Assange.

The founders of Openleaks.org say they are former WikiLeaks members unhappy with the way the organization is being run under Julian Assange.

Hackers who support WikiLeaks want others to replicate the attacks they say took down the websites of MasterCard and Visa.

Does Julian Assange's threat to release "Doomsday Files" from Wikileaks carry validity?


Most popular stories right now