Waiver allows media mogul to lead NYC schools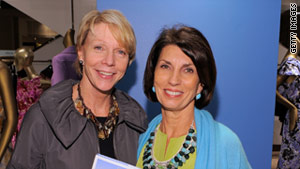 Cathie Black, left, is New York Mayor Michael Bloomberg's choice for education chief.
STORY HIGHLIGHTS
NEW: Mayor lauds decision, but protesters criticize lack of experience
City education commissioner approves waiver for Bloomberg's choice
Cathie Black is publishing executive with no education experience
Under the deal, Black would be allowed to lead schools with a deputy chancellor
New York (CNN) -- A New York education commissioner has approved a waiver for New York Mayor Michael Bloomberg's choice for education chief.
The deal paves the way for Cathie Black, a publishing executive with no background in education, to run the nation's largest school system, pending completion of required training in child abuse and school violence prevention.
"When [her professional experience is] viewed in its entirety, Ms. Black's training, background and experience are substantially equivalent to the certification requirements set forth in law," Education Commissioner David Steiner said in a statement Monday.
Once dubbed the "First Lady of American Magazines," Black has managed the financial performance of 20 publications, including Cosmopolitan, Esquire and Good Housekeeping, but -- like her predecessor Joel Klein -- lacked the education credentials and experience mandated by state law to qualify for the position.
Under a compromise announced Friday, the Hearst Magazines chairwoman would be allowed to lead New York schools with a deputy chancellor serving as her second in command.
Must school leaders have an education background? Share your thoughts in the CNN Teachers' Lounge.
She would be the city's first female chancellor amid a power struggle widely viewed as a test of mayoral influence.
"Today's decision was the right one for our kids and our schools," Bloomberg said in a written statement. "It is now time to put politics aside and recognize that it is in the best interest of our children for Cathie Black to succeed as Chancellor."
But some parents and school activists have protested Black's appointment, skeptical that her business acumen will translate into effective school leadership.
"Someone at the helm of education ... who does not know anything about the department of education, who does not come up through the ranks of a classroom like some of our qualified teachers, should not be at the helm of our child's education," Brooklyn resident Khem Irby told CNN affiliate NY1.
Last week, an eight-member advisory panel appointed by Steiner -- some with close ties to the mayor's office -- opposed the waiver.
Klein, who held the chancellor's post since 2002, leaves office December 31 and will enter the private sector as an executive vice president at News Corp.
Klein is the city's longest-serving education chancellor, overseeing 1,600 schools with 1.1 million students, 136,000 employees and a $21 billion operating budget.