Man falls to death during game at Chicago's Soldier Field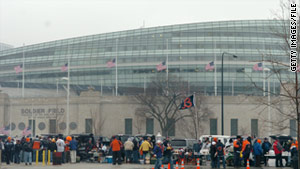 Fans tailgate outside Soldier Field in Chicago, Illinois, in 2007.
STORY HIGHLIGHTS
NEW: Coroner rules the death an "accident"
NEW: Incident follows death last week of a 2-year-old boy who fell during a Lakers game
The man fell during a game between the Chicago Bears and the Philadelphia Eagles
(CNN) -- The death of a man who fell from an upper deck Sunday during a home game of the Chicago Bears has been ruled an "accident" by the Cook County Medical Examiner's office, a spokeswoman said Monday.
The man was identified as Stuart Haverty, 23, of Chicago, and an autopsy Monday concluded that the cause of his death was multiple injuries from a fall, the spokeswoman said.
Haverty fell from the upper level of the Bears' Soldier Field to the ground outside the stadium, police said.
The incident happened around 5 p.m. Sunday while the Bears were playing the Philadelphia Eagles, said Veejay Zala of the Chicago Police Department. Haverty was pronounced dead at Northwestern Memorial Hospital at 5:27 p.m.
The incident marked the second such deadly fall during a pro sports game in as many weeks.
Last week, a 2-year-old boy fell to his death from a luxury suite at the Staples Center in Los Angeles, California. The boy fell at the conclusion of a National Basketball Association game and later died at the hospital.
In July, a fan trying to catch a foul ball at a Texas Rangers game in Arlington, Texas, fell 30 feet, injuring himself and four others. Tyler Morris tumbled over the railing on the club level of the stadium, hit the railing on the suite level and then landed on the lower deck. His injuries were not life-threatening.
CNN's Greg Morrison contributed to this report.
FOLLOW THIS TOPIC