U.S. envoy concerned over WikiLeaks plan to release more documents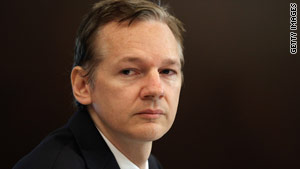 Wikileaks and its founder Julian Assange have promised to release more war documents, worrying U.S. officials.
STORY HIGHLIGHTS
WikiLeaks released documents in October and July
U.S. envoy to Iraq says there are concerns group could release more documents
"Next release is 7x the size of the Iraq War Logs," group said via Twitter
(CNN) -- Officials are concerned that whistle-blower organization WikiLeaks could release more documents, the U.S. ambassador to Iraq told a group of journalists Friday.
"We are worried about additional documents coming out," Ambassador James Jeffrey said. "WikiLeaks are an absolutely awful impediment to my business, which is to be able to have discussions in confidence with people. I do not understand the motivation for releasing these documents. They will not help; they will simply hurt our ability to do our work here."
In October, WikiLeaks released nearly 400,000 U.S. military reports about operations in Iraq. In July, it released more than 70,000 reports from the war in Afghanistan.
The organization promised this month that it would release a massive amount of previously classified documents.
"Next release is 7x the size of the Iraq War Logs," the group said via microblogging site, Twitter. "Intense pressure over it for months. Keep us strong."
FOLLOW THIS TOPIC