Humane Society accuses top turkey hatchery of abuse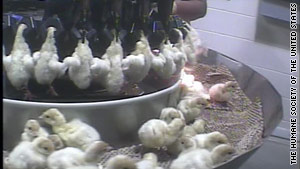 The Humane Society says birds at the Willmar Poultry hatchery are subjected to inhumane treatment.
STORY HIGHLIGHTS
Humane Society investigator shoots undercover video at a turkery hatchery
Video purports to show live birds tossed in grinder, injured poults left on ground to suffer
Willmar Poultry head says firm is committed "to meeting or exceeding" industry standards
Richard VanderSpek says some employees' actions violate company's policies
(CNN) -- Undercover video shot at one of the nation's largest turkey producers shows what an animal rights group calls cruel and inhumane treatment of birds.
The Humane Society of the United States released its findings this week from an 11-day undercover operation in October at the Willmar Poultry Company in Willmar, Minnesota. The hatchery, described on the company's website as the nation's largest, produces more than 30 million poults, or young turkeys, each year and delivers more than 600,000 a week to customers nationwide.
A Humane Society investigator worked at the hatchery and shot video that appears to show employees cutting the toes off poults before tossing them down a chute to a bloody conveyor belt. The video, which is posted on the group's website, also shows an employee scooping up a handful of poults and tossing them into a bin, dropping some on the floor and leaving them there. The video also purports to show an employee pulling a cart of injured animals over to a grinder and throwing them in.
"Our latest investigation exposes a callous disregard for animal welfare in the turkey industry, including practices such as grinding alive sick, injured and even healthy but unwanted turkeys," said Wayne Pacelle, Humane Society of the United States president and CEO. "It's unacceptable for workers to leave injured and nonambulatory animals to suffer on the floor for hours on end, only to then send them to their deaths in a grinder."
Willmar Poultry Company President Richard VanderSpek defended the company's animal welfare practices and policies and said in a statement that the video depicted "the actions of some employees that violate the company's animal welfare policies."
"We condemn any mistreatment of the animals in our care and will take swift action to investigate and address these issues. Willmar Poultry will also review its policies, procedures, employee training and site monitoring to help ensure that our employees understand and follow company animal welfare policies and procedures," VanderSpek said in a statement.
VanderSpek said the company was committed "to meeting or exceeding" industry standards for animal welfare practices and policies, including the National Turkey Federation's Animal Care Guidelines.
"The No. 1 priority for our turkey industry is to provide the safest, highest quality products possible. Therefore, it is essential for the industry to ensure the well-being of the turkeys it raises. Whether it is on the farm or in the processing facility, the turkey industry acts responsibly in the raising, breeding, transporting and processing of all turkeys," he said.
FOLLOW THIS TOPIC