Bedding material triggers security scare at Boston airport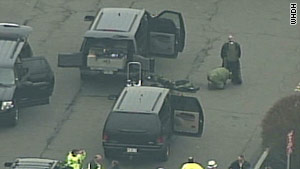 Massachusetts State Police say troopers responded to a report of a suspicious package at Logan airport.
STORY HIGHLIGHTS
NEW: An airport cargo facility is reopened after a security scare
The cargo facility was evacuated after suspicious items were found
The items are found to be harmless bedding material
Boston, Massachusetts (CNN) -- Authorities have "cleared" two suspicious duffel bags that triggered a security scare Tuesday at Boston's Logan International Airport after they were found to be harmless, according to Massachusetts Port Authority spokesman Phil Orlandella.
Authorities said the bags, which had mailing tags with Nigerian addresses, contained non-hazardous bedding material.
The evacuation was ordered after a search dog "hit" on the bags in the Delta cargo facility, Orlandella told CNN.
"During a routine inspection in the Delta Cargo Building at Logan International Airport, a TSA canine alerted on a cargo palette. Out of an abundance of caution and per standard protocol, the building was evacuated," the Transportation Security Administration said in a written statement.
Explosives specialists X-rayed the package and discovered it to be harmless, authorities said. The cargo facility and the adjacent roadway were then reopened.
Last month, authorities discovered explosive devices jammed into ink toner cartridges on cargo planes in the United Kingdom and Dubai. The packages had been sent from Yemen.
American and British authorities said the explosives found on October 29 were powerful enough to bring down a large aircraft. They were designed to be detonated by a cell phone, a source close to the investigation told CNN.
Officials believe a Yemen affiliate of al Qaeda was responsible for the plot.
CNN's Allan Chernoff and Mike Ahlers contributed to this report