San Francisco overrides mayoral veto, bans Happy Meals with toys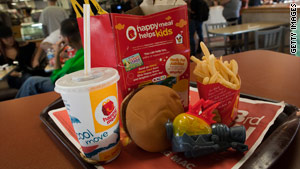 The ordinance requires Happy Meals and other fast food with toys to meet new nutritional standards .
STORY HIGHLIGHTS
Mayor Gavin Newsom vetoed the ban and ridiculed it
But the Board of Supervisors always had enough votes to override it
The ban forces fast-food chains to make meals with toys more nutritious for kids
(CNN) -- The San Francisco, California, Board of Supervisors banned most McDonald's Happy Meals with toys Tuesday. Despite objections and ridicule from opponents, the vote overrode the mayor's veto and officially approved the ban.
The new ordinance, which requires Happy Meals and other fast food with toys to meet new nutritional standards or else be removed from menus, goes into effect December 1, 2011.
The law is the first of its kind for a major American city, and San Francisco officials said they hope other cities would follow. The ordinance seeks to battle a child obesity epidemic by forcing fast-food chains to make any meal with a toy more nutritious for kids.
McDonald's and the restaurant industry contended the government regulation was unwanted by parents. Supporters of the measure, however, said the use of free toys, often tied to characters or themes in new movies, pandered to kids, to get them to buy meals high in fat and calories.
If restaurants want to offer toys as incentives, the meals must meet new nutrition standards, officials said.

Banning toys 'goes too far'

San Francisco takes on Happy Meals
Under the new regulations, food and beverages must contain fewer than 600 calories, and less than 35 percent of the total calories would be allowed to come from fat. The meal must contain half a cup of fruit and three-fourths a cup of vegetables, and offer less than 640 milligrams of sodium and less than 0.5 milligrams of trans fat. Breakfast will have the option of offering half cups of fruit or vegetables.
Mayor Gavin Newsom vetoed the "healthy meal ordinance," but the Board of Supervisors had enough votes -- 8 out of 11 --to override that veto Tuesday, as expected.
"From the Institutes of Medicine to the World Health Organization, we know that reducing the consumption of junk food by kids could spare the health of millions and save billions of dollars to our overstrapped public health system," said Supervisor Eric Mar, sponsor of the legislation.
"That's why pediatricians, educators, parents, community health advocates, and thousands of individuals lined up to support this ordinance," Mar added.
When he vetoed the measure, Newsom said, "Parents, not politicians, should decide what their children eat, especially when it comes to spending their own money."
"Despite its good intentions, I cannot support this unwise and unprecedented governmental intrusion into parental responsibilities and private choices."
FOLLOW THIS TOPIC