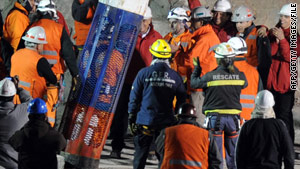 One of the rescuers prepares to descend nearly a half-mile to 33 miners trapped in Chile on October 12.
STORY HIGHLIGHTS
Some miners call rescuers such as Patricio Roblero the real Chilean heroes
Roblero, who trained in special forces, was prepared for the long, sleepless rescue
Rescued miners said they were fine, but their high pulse revealed true tension
Editor's note: The Top 10 Heroes of 2010 will be honored Thanksgiving night, November 25, at "CNN Heroes: An All-Star Tribute." The show starts at 8 ET. See the top 10 Heroes
Los Angeles, California (CNN) -- Patricio Roblero was the third of six rescuers to descend last month into the Chilean mine that trapped 33 men for almost 10 weeks -- the longest mine captivity in history.
To reach the distressed miners, he entered a capsule called the Phoenix, and he was lowered through a freshly bored tunnel barely wider than a man's broad shoulders.
The mission would be a sleepless one. An unassuming, clean-cut medic who had been in the Chilean special forces, Roblero would work 22 hours straight, taking the vital signs of all the miners to ensure they were healthy enough for the capsule ride back to earth.
"Mission accomplishment comes first, and troop welfare comes second," Roblero said. "If I save the life of someone, it's my job."
Roblero, other rescuers and the miners all are in Los Angeles to attend "CNN Heroes: An All-Star Tribute," which will air worldwide on Thanksgiving evening, November 25. Organizers invited them as special guests.
Roblero and the other rescuers thought nothing of the long shift of October 12-13 or of the risk of entering the mine, he said. The ramp failed almost two months earlier, on August 5, trapping 33 men whose ages ranged from 18 to 63.
Former servicemen of Roblero's sort had been well-trained to work for two days without sleep, he said.
"Given the obvious situation I was in, I couldn't sleep," Roblero said. "Besides, those of us who were in special forces, we're accustomed to not sleep for 48 hours."
The nature of mining -- which in Chile is considered a decent-paying job -- gave the captive men a stoicism necessary to survive 69 days in a dark shaft almost a half-mile deep.
"The mentality of a miner is different," Roblero said. "Their mentality is strong -- like a soldier.
"These guys were very strong," he said.
Roblero calls them heroes.
But some miners, like Mario Sepulveda, 40, called Roblero and the other rescuers the real heroes.
As Roblero was recounting his experiences to a journalist in a downtown Los Angeles hotel, Sepulveda interjected his comments.
"When you guys showed up, the feeling was just awesome," said Sepulveda, who's regarded as the flamboyant miner who wears the hat of a traditional Chilean cowboy, or huaso. "You're the true heroes.
"There's a lot of things that happened down there that's still a secret," Sepulveda continued. "With the passage of time, they'll be told -- like supernatural things and spiritual moments."
For as steely as some miners seemed upon rescue, their vital signs couldn't hide the tension of the moment, Roblero said. He took the pulse of each man to prepare for the trip in the capsule.
"Some of the guys were nervous," Roblero said, "but that was normal. Before we put them in the capsule, their pulse was 100, 120."
The mine, which yields mostly gold and some copper, is in the desertlike Atacama region of northern Chile, and Roblero believes he was selected for the rescue mission because he had worked in a hot climate as private medic contractor in Iraq and Jordan since 2006.
He was a special forces medic in the Chilean military for 13 years, until 2005.
In the 10 days before the rescue operation, Roblero and the five other rescuers trained on how to enter and use the capsule under different conditions -- including without any lights.
Roblero found the mine to be a warm place, with temperatures hovering around 100 degrees Fahrenheit. Its darkness was broken by the lamps of the miners' helmets.

Chilean miners arrive in Los Angeles
When his capsule touched bottom, he was pleased to find that, for the most part, the miners were in good shape.
"Everyone was very happy," Roblero said. "They were ecstatic."
Checks of their pulse, blood pressure and heart rate showed that they seemed healthy enough to endure a 20- to 25-minute ascension in the capsule. In all, each rescue required a 45- to 50-minute round trip of the rescue shell, and a waiting list of 33 men promised a long day.
When miner Omar Reygadas, 56, saw the rescuers enter the mine, he was elated. At last, the wait was over, he said. Reygadas, a bulldozer operator with 14 grandchildren and three great-grandchildren, has been mining for 20 years.
"When I saw them, I felt so happy and so content," Reygadas said. "We wondered when they were going to arrive."
Roblero was encouraged to find that the roster providing an order of rescue for each miner proved to be accurate. He didn't find any urgent medical issues among the miners that would have called for triage and a list change. The list had been prepared by physicians and other medics, he said.
"We would have changed the order of people, but we didn't have that problem," he said.
He found the mine to be quite spacious. The space was generally 15 feet high and 15 feet wide, enough to drive one of the two pickup trucks parked in the shaft.
The mine stretched for 2 kilometers, enough for many of the miners to have a daily walk or run.
The front seats of a pickup truck were used for sleeping, and the back seat was removed to create another bed. In all, five miners could sleep in the cab and bed of the pickup truck, miners said. The pickup truck batteries were used to recharge the lamps on the miners' helmets, said miner Raul Bustos, 40, a foreman and hydraulics engineer.
For bathroom facilities, the 33 miners used an existing portable toilet, which they cleaned out regularly by emptying waste in large containers. Cement and sand were added to the 52-gallon, or 200-liter, buckets to seal them, and the containers were stored in a distant corner.
While the 69 days of entrapment is a record for mining accidents, Roblero found another historic moment that came out of the ordeal: the rescue.
"In my very personal opinion, for the first time in its history, Chile has done something of excellence, something very well-planned and very well-executed," said Roblero.
FOLLOW THIS TOPIC