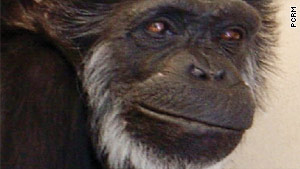 Flo may be put to sleep because of her chronic weight loss, anemia, abnormal heart rhythm and age, Bill Richardson says.
STORY HIGHLIGHTS
New Mexico governor asking USDA to halt primate transfer
186 chimpanzees are set to be transferred early next year
NIH: Chimps play a key role in hepatitis research
(CNN) -- New Mexico Gov. Bill Richardson thinks Flo the chimpanzee needs a friend.
Flo, 53, has been used in research experiments for decades, which Richardson says likely contributed to her poor health. She and 185 other chimpanzees are set to be transferred early next year from their current home, the nonresearch Alamagordo Primate Facility in Alamagordo, New Mexico, to the Southwest National Primate Research Center in San Antonio, Texas, where they could be used in additional experiments.
But Richardson wants the U.S. Department of Agriculture to stop the planned transfer, claiming it violates the Animal Welfare Act because of the chimpanzees' age and poor health.
"USDA has an opportunity to prevent future violations that would severely impact the health of these ill animals," Richardson wrote in a Thursday letter to Agriculture Secretary Tom Vilsack.
The governor is supported by the nonprofit Physicians Committee for Responsible Medicine. The group said it "promotes preventative medicine, conducts clinical research and encourages higher standards for ethics and effectiveness in research."
The USDA enforces the Animal Welfare Act, and Vilsack has the authority to stop the transfer without a court order, said Jeanne Stuart McVey, spokeswoman for the PCRM.
Charles River Laboratories operates the Alamagordo Primate Facility under a National Institutes of Health contract, Richardson said. The contract will end in May 2011, and the laboratories plan to transfer all of the chimpanzees beginning early next year.
The National Institutes of Health's National Center for Research Resources, on a website dedicated to the topic of the chimpanzee transfers, says the Alamagordo Primate Facility is a "research reserve colony that provides animals to other facilities for research studies." NIH's contract with Charles River Laboratories specifies that when animals are needed for research, animals from the reserve colony must be moved to the research site and cannot be returned.
The New Mexico and Texas facilities are two of five NIH-supported sites housing research chimpanzees, according to the website. "All NIH-supported animals are cared for by animal care teams that include veterinarians as well as integrated animal behavior and enrichment specialists."
The chimps will be moved together to maintain the colony's "long-standing social groups," the National Center for Research Resources said. The Texas facility, which is funded by a grant from the center, "can provide the same quality of care as at the APF, but at a lower cost than was incurred under the CRL contract," according to the website.
The center says chimpanzees play an important role in research to develop a human vaccine for hepatitis C -- the most common reason for liver transplants in the United States. "The development of a vaccine could protect future generations against infection with hepatitis C," the website says.
"Each animal is evaluated prior to transport by veterinarians with chimpanzee expertise," the center said. "If there is any medical reason not to move the animal, then the transfer of that animal will be postponed."
Charles River Laboratories, based in Wilmington, Massachusetts, says on its website that for more than six decades, it "has been helping our global partners accelerate drug discovery and development" through research and support services. The company is "committed to the humane care of the research animals produced and used in all of our activities," the website says.
Company spokeswoman Amy Cianciaruso said Charles River Laboratories doesn't own the Alamagordo Primate Facility or the chimpanzees, and referred questions to NIH.
Medical and veterinary experts with the PCRM have analyzed records detailing the medical histories of some of the Alamagordo chimps, Richardson writes in the letter.
"Many of these chimpanzees suffer from serious chronic conditions related to old age and their history of use in research studies, including severe heart disease, liver disease, viral infections and diabetes," according to the letter. "All of the chimpanzees have been captive for many years and used as experimental subjects, and thus are likely to harbor psychological disorders." Several are considered to be at risk of sudden death because of the severity of their conditions, Richardson said.
USDA regulations say that if a primate is ill, injured or in physical distress, "it must not be transported in commerce, except to receive veterinary care," Richardson writes to Vilsack. He is asking the USDA to issue a "cease and desist" order preventing the chimps' transfer.
Richardson visited the New Mexico site in September and said the animals were in excellent health, according to a blog post on the Los Angeles Times website. He suggested the site could become a behavioral research facility.
Flo, according to Richardson, is at risk of dying under anesthesia because of her chronic weight loss, anemia, abnormal heart rhythm and her age. Her medical records indicate the right side of her heart is enlarged.
In the 30 years she's been in New Mexico, Flo has been chemically immobilized at least 115 times, Richardson writes, often by "darting," where a sedative dart was fired at her. In earlier years, Flo was injected with chemicals including the drugs angel dust and ketamine, according to the governor. "On several occasions, Flo has had convulsions or seizures following or during anesthesia."
Another chimpanzee set for transfer is Guy, who is about 51, according to Richardson's letter. He previously was used in hepatitis research, and was infected with hepatitis C and had regular liver biopsies. On May 30, 1995, Guy was inoculated with human immunodeficiency virus, Richardson writes. In 2003, he tested HIV positive and was identified as a hepatitis C carrier. In recent years, Guy has suffered from cardiac problems, the governor said. "The stress of relocation, acclimatization, and reintroduction into research carries a high risk of causing Guy's precarious health status to decline rapidly," according to the letter.
Studies have shown that prolonged captivity and experimentation can "produce syndromes consistent with post-traumatic stress disorder in chimpanzees, which persist even after retirement to sanctuary and require specialized treatment," Richardson writes.
"In simple terms, if the APR chimpanzees are transported to SNPRC, many may be expected to die either en route, after arrival at SNPRC, or earlier than they would if retired in their current environment."