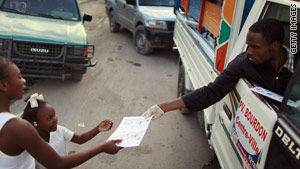 A Haitian Ministry of Health worker hands out an informational pamphlet about cholera in Port-au-Prince.
STORY HIGHLIGHTS
NEW: Florida authorities say it is the same type of cholera spreading in Haiti
NEW: The woman has been released from a local hospital and is doing well
A CDC spokesman says the case "is not unexpected"
The woman recently traveled to Haiti
(CNN) -- A woman who recently returned to Florida from Haiti has been diagnosed with cholera, the Florida Department of Health announced Wednesday.
An outbreak of the disease in Haiti has killed more than 1,100 people there, health officials said.
"We have laboratory confirmation that it is the type of cholera spreading in Haiti," said Florida Department of Health spokesman Rob Hayes. "This is not a major public health concern, but we're on top of it," he added.
The woman, whose name is being withheld for privacy reasons, has been released from the hospital where she was being treated and is doing well, Hayes said.
"We are working with our health care partners to ensure appropriate care of this individual and prevent the spread of this disease within the community," Florida Surgeon General Ana M. Viamonte Ros said in a written statement.
Florida authorities will "continue to monitor the state for any future cases," she added.
Haiti's cholera outbreak has now spread across the border to the Dominican Republic, where health officials issued a maximum health alert.
The number of U.S. travelers heading to and from Haiti has increased since an earthquake devastated the impoverished nation in January, according to the Florida Department of Health statement.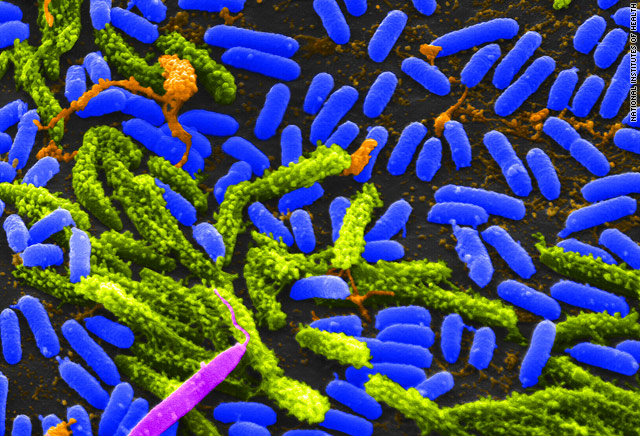 Cholera 101: Disease facts
"This case is not unexpected and we're likely to see more imported cases of cholera in people who travel back from Haiti to the United States," said Tom Skinner, spokesman for the Centers for Disease Control and Prevention in Atlanta, Georgia. "Our medical system, as well as our water and sanitation programs, are such that we are not going to see cholera spreading in the United States the way it is in Haiti."
Florida's Department of Health also noted that the superior U.S. infrastructure minimizes the risk for fecal contamination of food and water, limiting the potential spread of the disease.
Person-to-person transmission is rare, it added.
In the past five years, 44 cases of cholera have been reported in the United States, according to statistics from the Centers for Disease Control and Prevention. That figure does not include the latest case in Florida. Many of those cases were labeled as "imported," meaning that the victim contracted the disease outside of the country and entered the United States already ill.
Other victims had a history of traveling to or eating contaminated seafood from the Gulf Coast region, where brackish water and estuaries are common reservoirs for algal blooms that can produce the disease, according to the World Health Organization.
Symptoms of cholera, an acute, bacterial illness caused by drinking tainted water or eating contaminated food, can be mild or even nonexistent. But sometimes they can be severe: leg cramps, profuse watery diarrhea and vomiting, which can cause rapid loss of body fluids and lead to dehydration, shock and death.
CNN's Miriam Falco and David Ariosto contributed to this report
FOLLOW THIS TOPIC