More Gulf waters reopened for fishing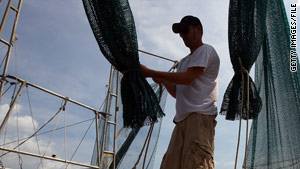 The spill resulting from the Deepwater Horizon blast affected the livelihoods of many on the Gulf Coast, including shrimpers.
STORY HIGHLIGHTS
More than 8,000 square miles are being reopened
Officials: Seafood samples have tested safe
No oil or sheen has been found in the area since July
(CNN) -- More than 8,000 square miles in the Gulf of Mexico were reopened for fishing Monday, leaving less than 1 percent of waters closed, the National Oceanic and Atmospheric Administration said.
The total area reopened Monday is about 3.5 percent of the Gulf's federal waters, officials said in a statement. The reopened area extends from south of Chandeleur Sound in Louisiana to due south of the Alabama-Florida state line. The reopening is the 11th since July 22, the NOAA said. No oil or sheen has been documented in the area since July 25.
The reopened portion of 8,403 square miles is about 10 miles at its closest point from the ruptured wellhead that began gushing oil after the Deepwater Horizon oil rig exploded and sank.
NOAA sampled the waters between August 31 and November 1 for sea life, including shrimp, tuna, swordfish, escolar and royal red shrimp, officials said in the statement. The analysis of samples found "no detectable oil or dispersant odors or flavors, and results of chemical analysis for oil-related compounds and dispersants well below the levels of concern," the statement said.
"This is the first reopening where we have added a supplemental test to detect dispersants in seafood, and all the samples passed," said Jane Lubchenco, undersecretary of commerce for oceans and atmosphere and NOAA administrator. "This is yet another indication that our Gulf seafood is safe for consumption."
NOAA and the Food and Drug Administration are working together on sampling seafood from inside and outside the Gulf closure area, as well as dockside and market-based sampling, the statement said.
An area of water measuring 1,041 square miles immediately surrounding the wellhead remains closed to fishing. NOAA has reopened more than 82,900 square miles of federal waters since the underwater gusher was stopped. Some 99.6 percent of federal waters are now open for fishing, NOAA said.
The April 20 explosion on the Deepwater Horizon led to the worst oil spill in U.S. history, with more than 200 million gallons of oil released into the gulf. At its peak in June, 37 percent of gulf waters, or 88,522 square miles, were closed to fishing. More than 82,900 square miles have been reopened, NOAA said.
FOLLOW THIS TOPIC