The 'perks' of a Medal of Honor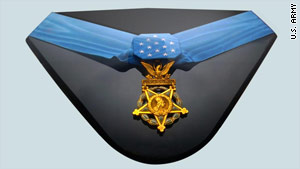 History and respect are just part of what comes with being a recipient of the Medal of Honor.
STORY HIGHLIGHTS
Living Medal of Honor recipients are entitled to additional "perks"
Among those are special parking spots, inauguration invitations and special license plates
Recipients, no matter rank, are saluted by the military's top officers, rather than vice versa
Salvatore Giunta's story as the first living Medal of Honor recipient since the Vietnam War: Sunday, 7 p.m. ET on CNN. More on the Medal of Honor
Washington (CNN) -- When President Obama hangs the Medal of Honor around Staff Sgt. Salvatore Giunta's neck on Tuesday, the young soldier will instantly take his place in history. For as long as he lives he will be accorded the same respect enjoyed by America's top military officers.
But history and respect are just part of what comes with being the recipient of the nation's highest decoration for bravery on the battlefield.
Living Medal of Honor recipients are entitled to benefits most service members don't get -- what in the corporate world would be called "perks." But make no mistake, these heroes don't risk their lives on the battlefield for "perks." They will say they aren't heroes and what they did to earn the medal they did for their buddies, their comrades in arms -- not for a decoration.
But, nonetheless, this country affords these heroes with many "perks." Here are just a few of the lifetime benefits.
The first is more money. The Department of Veterans Affairs gives them a $1,194 monthly pension. Plus there is a 10 percent increase in their retirement pay, provided it doesn't exceed the maximum allowed by law.

Rare Medal of Honor to living recipient
The recipients also get to fly on military aircraft at no cost, if there is space available, and they and their families can use military recreation facilities like pools, bowling allies and golf courses.
Recipients are also invited to all presidential inaugurations and the inauguration balls.
There are also less formal benefits.
For example, many military bases set aside a special parking space for Medal of Honor winners. There is an informal tradition that regardless of a service member's rank, even the top officers in the military salute them, rather than vice versa. And many states, including California, Iowa and Wisconsin, have special license plates that only a Medal of Honor recipient can put on his car, and some of those states waive the usual fees.
Each Medal of Honor recipient's child, if they qualify, can go to a military academy without having to worry about the quota for his or her state.
Finally, upon their death, a Medal of Honor recipient's grave is marked with a special headstone that bears the Medal of Honor symbol and special gold lettering to denote that service member's special status.
That's one benefit that Sgt. Giunta's family, hopefully, won't receive for many, many years.