Met returning 19 King Tut objects to Egypt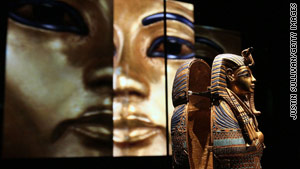 The 19 King Tut items will be sent back to Egypt in June 2011.
STORY HIGHLIGHTS
The New York museum is returning 19 King Tut items to Egypt
Curators' research substantiated history of objects
Tutankhamun died young, but had elaborate burial chamber
New York (CNN) -- The Metropolitan Museum of Art in New York is returning to Egypt 19 small objects that were entombed for centuries with ancient Egypt's "boy king," officials announced Wednesday.
A small bronze dog and a sphinx bracelet-element were attributed with certainty to Tutankhamun's splendid burial chamber, which was discovered by Howard Carter in 1922 in the Valley of Kings, the museum and the Supreme Council of Antiques of Egypt said.
Two Met curators extensively researched the items, which became part of the museum's collection from the 1920s to the 1940s.
"These objects were never meant to have left Egypt, and therefore should rightfully belong to the Government of Egypt," Met Director Thomas P. Campbell said in a joint statement with the Egyptian council.
Prior to the discovery of Tut's tomb, the Egyptian government customarily allowed excavators to keep a portion of their prize. That was not to be the case after Carter's discovery.
Still, items were taken. The Met acquired some of the 19 items from Carter's estate, officials said. The museum has been proactive in returning items to Egypt.
The objects will be displayed in a Times Square King Tut exhibit until January 2011, then will be part of an Egyptian exhibit at the Met before being sent to Egypt in June 2011, the statement said. They eventually will be housed at the Grand Egyptian Museum at Giza, scheduled to open in 2012.
Zahi Hawass, secretary general of the antiquities council, has long campaigned for museums to return items to Egypt. He called the Met's move a "wonderful gesture."
In 2009, Egypt suspended ties with France's Louvre museum because it held five ancient murals. The French government agreed to return them.
Hawass has unsuccessfully lobbied the British Museum to return the famed Rosetta Stone. He also wants a German museum to hand over a bust of Queen Nefertiti.
A message left for Hawass by CNN was not immediately returned Wednesday.
Tut ruled during the 18th Dynasty, from 1336 B.C. to 1327 B.C., according to the website Egyptology Online, and is believed to have died young. Forensic analysis of his mummy has put his age of death at about 17 to 19 years.
FOLLOW THIS TOPIC