Boeing Dreamliner makes emergency landing during test flight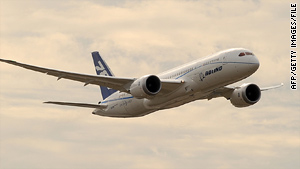 The Dreamliner, Boeing's next-generation passenger jet, is touted as a fuel-efficient aircraft made of composite materials.
STORY HIGHLIGHTS
Boeing says its crew evacuated safely
Jetliner's crew reported smoke in the cabin
The aircraft landed in Laredo, Texas, after declaring an emergency
(CNN) -- A new Boeing 787 Dreamliner made an emergency landing in south Texas during a test flight Tuesday afternoon after the pilot reported smoke in the cabin, the Federal Aviation Administration said.
The jetliner landed at Laredo International Airport at 2:54 p.m. after the flight crew reported smoke in the cabin at the back of the twin-engine aircraft, FAA spokesman Lynn Lunsford said. Those aboard evacuated using the plane's slides, Lunsford said.
Boeing spokeswoman Lori Gunter said the crew "safely evacuated the airplane," which was met by emergency crews on the runway.
"We are continuing to gather data regarding this event," Gunter told CNN in a written statement. "It's too early" to tell what may have gone wrong," she added.
The Dreamliner is Boeing's next-generation passenger jet, touted as a highly fuel-efficient aircraft made largely with composite materials.
It made its maiden flight in December 2009 after two years of delays, but the head of Boeing's commercial aircraft division told CNN in July that the Dreamliner could still make its debut in early 2011.
The company already has nearly 900 orders for the jet around the world.
CNN's Frances Causey contributed to this report.