Supreme Court stays out of NFL drug violation dispute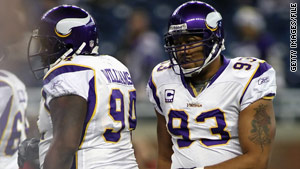 Vikings players Pat Williams, left, and Kevin Williams were banned for four games after testing positive for a diuretic.
STORY HIGHLIGHTS
Justices allow state court dispute to continue
Vikings players say the NFL violated state labor laws
The court's refusal to intervene is a further setback for the league
Washington (CNN) -- The Supreme Court is staying out of an ongoing fight over the right of professional athletes to challenge their league-imposed suspensions.
The justices without comment on Monday allowed a state court dispute to continue between the National Football League and two Minnesota Vikings players over allegations of drug violations.
Vikings defensive linemen Kevin Williams and Pat Williams were banned for four games after testing positive for a banned diuretic known as StarCaps, which has been shown to mask anabolic steroid use. The two men are unrelated.
The league had asked the high court to dismiss the lawsuit entirely. An appeals court had tossed out a federal challenge to the NFL suspensions, but said a state court could decide related issues.
The NFL cites the National Labor Relations Act, saying its collective bargaining agreement with the players' union protects its drug policy from being challenged in state courts. But the Williams teammates say the league violated state labor laws in applying its drug policy.
The high court's refusal to intervene at this stage is a further setback for the league, which has been trying for more than two years to punish the players.
A number of sports leagues had backed the NFL's call for uniform standards regarding enforcement and testing of players for illegal drugs. Major League Baseball, the National Hockey League, and the U.S. Anti-Doping Agency -- which tests Olympic athletes -- filed an amicus, or "friend of the court," brief in support. Those groups have also asked Congress to step in and pass legislation to prevent players from challenging suspensions in state courts.
A state judge in Minneapolis, Minnesota, had issued an injunction allowing both players to continue playing while the case is under review. The Minnesota Court of Appeals will hear arguments next week on whether to make the injunction permanent, which would be another victory for the Vikings players.
Hennepin County, Minnesota, Judge Gary Larson earlier this year found the NFL violated state law for failing to notify the players within three days of the drug test results.
The case is National Football League v. Williams (09-1380).
FOLLOW THIS TOPIC