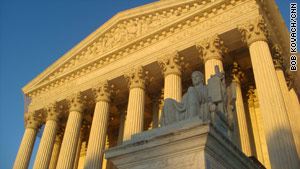 The Supreme Court won't hear the first constitutional challenge to President Obama's health care reform.
STORY HIGHLIGHTS
The Supreme Court rarely accepts cases not thoroughly reviewed by lower courts
Various state and federal challenges are under way
The requirement that people have health insurance is a major point being challenged
Washington (CNN) -- To no one's surprise, the Supreme Court on Monday rejected the first constitutional challenge to the sweeping health care reform effort championed by President Barack Obama and the Democratic-controlled Congress.
The justices without comment refused to get involved at this early stage, while various state and federal challenges are continuing. The high court rarely accepts cases before they have been thoroughly reviewed by lower courts.
A challenge to the law was brought by a California conservative group. Higher profile lawsuits have been brought by state officials in Florida, Virginia and almost two dozen other states.
At issue is whether the health care law is constitutional in requiring citizens to obtain health care coverage or face financial penalties, as well as forcing states to expand Medicaid. Separate federal judges have reached conflicting preliminary rulings on the legality of the health care overhaul.
Legal experts say they expect the issues to ultimately end up before the U.S. Supreme Court, but that may not happen for at least a year or two.
Monday's brief order offered some vital information on the likely legal fight to come: All nine justices weighed in on the decision to not accept the appeal for review.
There have been some suggestions in legal circles and on various blogs that the newest justice, Elena Kagan, might disqualify herself, because of her previous job as solicitor general, tasked with defending the Obama administration in high court challenges. The 50-year-old justice had refused at her July confirmation hearings to say whether she would participate in the health care reform dispute. The Justice Department has not indicated exactly what her role was in early discussions over defending the health care bill in court. She was nominated to the bench in May and confirmed in August.
The Patient Protection and Affordable Care Act was signed into law by the president on March 23.
Justice Clarence Thomas also has come under fire over his wife's separate political activities. Through Virginia Thomas' conservative advocacy group, Liberty Central, she has spoken out in favor of repealing the bill.
All this comes as various courts are debating the larger legal issues.
Last month a federal judge in Michigan ruled the controversial penalty provision requiring Americans to purchase insurance is constitutional.
Other judges hearing separate challenges from Virginia and Florida have allowed lawsuits challenging the health coverage mandate to move ahead, while questioning the legality of some provisions.
Florida is supported by 19 other states: Alabama, Alaska, Arizona, Colorado, Georgia, Idaho, Indiana, Louisiana, Michigan, Mississippi, Nebraska, Nevada, North and South Dakota, Pennsylvania, South Carolina, Texas, Utah and Washington.
The legislation has been derisively labeled "Obamacare" by opponents, and House Republicans leaders-- who gained the majority after Tuesday mid-term elections-- have vowed to overturn or severely trim back the law.
The appeal rejected Monday is Baldwin v. Sebelius (10-369).
FOLLOW THIS TOPIC