CIA chief: No more leaking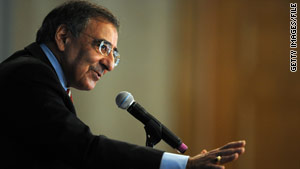 CIA Director Leon Panetta warned employees that leaks can do "incredible damage."
STORY HIGHLIGHTS
CIA Director Leon Panetta sends a memo to agency employees
The government is taking "a hard line" on leaks of confidential information, the memo says
Leaks will be investigated and possibly prosecuted, Panetta says
Washington (CNN) -- The head of the Central Intelligence Agency sent a stern warning Monday to the nation's spies and employees to button up the leaks.
In a memo sent to CIA employees, Director Leon Panetta said the government is taking "a hard line" and warned that unauthorized disclosure of information to media has done "incredible damage" and could endanger lives.
In the memo, Panetta references only one example, WikiLeaks, but writes that in other cases "CIA sources and methods have been compromised."
The citing of Wikileaks is curious since the bulk of the 400,000 Iraq documents posted by the website are mostly military-related. There are some documents that refer cryptically to other agencies' activities -- some believed to be CIA-related -- which appear under the label "OGA," which stands for "other government agency."
"Here at the Agency, we are a family, which means we depend on each other -- sharing burdens, challenges, and successes," Panetta writes in the memo. "But sharing cannot extend beyond the limits set by law and the 'need to know' principle."
Panetta noted recent prosecutions for leaking information and said unauthorized information disclosure will be investigated by the CIA's Office of Security and referred to the Justice Department.
There was no specific reason for releasing the memo now, a U.S. intelligence official said.
"A number of leaks over time -- and across our government -- prompted Panetta to remind agency employees of their obligation to protect America's secrets," the official said. "Unauthorized disclosures of classified information can harm national security, and he wanted to emphasize that important point."
CNN's Pam Benson contributed to this report.