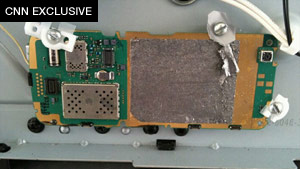 The circuit board bears similarities to a cell-phone, according to experts.
STORY HIGHLIGHTS
Saudi Arabia provided tracking numbers for two suspicious packages headed for U.S.
Packages apparently contained explosive material
They were bound for Chicago synagogues
Packages were found in the United Kingdom and United Arab Emirates
(CNN) -- Saudi Arabia played a key role in providing intelligence that led to the interception of suspicious packages in at least two locations abroad that were bound for the United States -- including the packages' tracking numbers -- officials said Friday.
The tracking numbers from the Saudis explained how the packages were traced so quickly in the United Kingdom and the United Arab Emirates, a source with firsthand knowledge of the situation told CNN Friday.
White House counterterrorism chief John Brennan thanked Saudi Arabia for helping to identify the packages, which President Barack Obama said were thought to contain explosive material.
"The United States is grateful to the Kingdom of Saudi Arabia for their assistance in developing information that helped underscore the imminence of the threat emanating from Yemen," Brennan said in a statement Friday.
"Their assistance, along with the hard work of the U.S. counter-terrorism community, the United Kingdom, the UAE, and other friends and partners helped make it possible to increase our vigilance and identify the suspicious packages in Dubai and East Midlands Airport," he said.
President Obama said Friday that the packages were bound for two Chicago synagogues.
If not for Saudi intelligence, former U.S. homeland security adviser and CNN contributor Fran Townsend said Friday, the packages "would have arrived at these Jewish houses of worship and would have exploded ... (they) could have killed some, maimed others."
U.S. officials believe that al Qaeda in the Arabian Peninsula, commonly referred to as AQAP, is behind the incident.
Obama confirmed that the packages originated in Yemen, the stronghold of the extremist group, which was formerly called al Qaeda in Yemen.
Brennan first briefed the president on the potential threat on Thursday at 10:35 p.m., White House Press Secretary Robert Gibbs said at a Friday press briefing.
Obama directed U.S. intelligence and law enforcement agencies and the Department of Homeland Security to take security precautions and to determine whether the threats were a part of a broader plot, Gibbs said.
Brennan continued briefing Obama throughout the night while also talking by phone with Homeland Security Secretary
Janet Napolitano, FBI Director Robert Mueller, Central Intelligence Agency officials and other officials into early Friday morning, Gibbs said.
Brennan said that intelligence officials were specifically looking for suspicious packages when the first discovery -- the package in the United Kingdom -- was made.
At 5:15 a.m. Friday, Brennan held a phone call with British deputy security advisor Ollie Robbins, to receive an update on the suspicious package identified at East Midlands Airport, about 100 miles north of London, Gibbs said.
Four hours later, Brennan talked with Yemeni President Ali Abdullah Saleh to discuss the threat, Gibbs said.
At 10:15 a.m., Obama was briefed on the threat from Brennan, White House National Security Advisor Tom Donilon and Deputy National Security Advisor Denis McDonough.
After the packages were found Thursday night and Friday morning, authorities were tracking about 13 other packages shipped from Yemen in the same time frame, a law enforcement source said. Some of them had been found, and an investigation of those had not indicated that they are a threat, the source said.
A Yemeni diplomat in Washington said his government has opened a full-scale investigation into the incident but that it was too early to speculate or reach any conclusions.
"I would say the C.T. (counter-terrorism) cooperation right now with Yemen is better than it's ever been before," Brennan said at Friday's White House briefing. "That doesn't mean that it can't improve more. It needs to improve."
FOLLOW THIS TOPIC