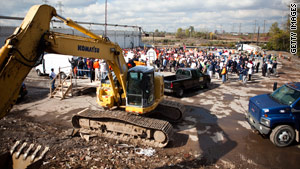 Union members protest last week in North Bergen, New Jersey, against the shutdown of a major tunnel project.
STORY HIGHLIGHTS
NEW: LaHood is "extremely disappointed" in governor's decisions
Gov. Christie officially shuts down plans for the tunnel
He cites the burden to taxpayers
Critics say move is politically motivated, will hurt region
New York (CNN) -- New Jersey Gov. Chris Christie announced Wednesday he is officially shutting down a multibillion-dollar tunnel project after reviewing plans for carrying out what would have been the nation's largest infrastructure endeavor.
The Access to the Region's Core project, also known as the Trans Hudson Express ARC project, is a proposed tunnel connecting New Jersey and New York City, along with an expansion of New York's Penn Station. It would have created 6,000 jobs and taken 22,000 vehicles off the highway. But Christie terminated the proposal, citing projected cost overruns.
A statement from his office said "no agreement was reached on terms that would assure New Jersey's taxpayers would not pay more than $2.7 billion for a completed Trans Hudson Express ARC project." Federal cost estimates for the project ranged from $9.8 billion to $12.7 billion.
After initially shutting down the project earlier this month, Christie had agreed to an additional two-week review of it at the request of Transportation Secretary Ray LaHood. Christie stuck to his decision after that review.
LaHood said he was "extremely disappointed" with Christie's decision, calling it "a devastating blow to thousands of workers, millions of commuters and the state's economic future."
"The governor's decision to stop work on this project means commuters -- who would have saved 45 minutes each day thanks to the ARC tunnel -- will instead see no end to traffic congestion and ever-longer wait times on train platforms," he said. "Our DOT team has worked hard over the last several weeks to present Governor Christie with workable solutions to bring the ARC tunnel to life."
Sen. Frank Lautenberg, D-New Jersey, was among the proponents of the project and led public criticism of the Republican governor's decision to put the project on hold and ultimately cancel it.
"The governor was given a deal from the federal government on Sunday that put no extra imposition on the state of New Jersey for its obligation to the ARC Tunnel project, and the governor refused it," the senator said. " It was clear from the beginning that Governor Christie planned to kill the ARC Tunnel no matter what. In doing so, the governor has once again put politics over performance. "
Lautenberg, who called Christie's decision "the biggest public policy blunder in New Jersey's history," said the Federal Transit Administration offered to contribute an additional $358 million in federal "New Starts" funding to cover New Jersey's costs, and that two of the agency's proposals that utilized a public-private funding partnership relieved New Jersey of liability for cost overruns.
"Today he killed the prospect for improving New Jersey's economy and creating thousands of new jobs," said Lautenberg, who serves on the Senate Transportation Appropriations Subcommittee. "He increased the amount of toxic fumes that will be discharged from idling cars stuck in traffic, and he took away an opportunity for New Jersey housing values to go up."
And now, Lautenberg said, New Jersey will be required to repay the federal government $350 million in funds already provided for NJ Transit, the agency that would have been involved in operating the new transit line.
Christie had initially stopped the project on October 7, saying advisers projected overruns ranging from $2 billion to $5 billion on top of the $8.7 billion tunnel expenses, and he was not willing to allow the taxpayers of New Jersey to foot the bill. Proponents countered that Christie's figures were wrong -- and that entire project's costs were spread out over several years.
The following day, Christie agreed to an additional two-week review of the project at the urging of LaHood, but Wednesday announced his decision to cancel the project would stand.
Robert Yaro, president of the Regional Plan Association, a public policy and transportation think tank, said, "We think this is very shortsighted and damaging to the long-term economic interests of New Jersey, the New York/New Jersey metropolitan area and to the rest of the country."
Critics of Christie's decision have called it a politically motivated move.
Yaro said, "Apparently, the governor wasn't communicating with his own staff. His own staff agreed with the federal government that the potential overrun was under a billion (dollars) and that that could be managed; that the project could be scoped differently or phased differently."
CNN's Eden Pontz and Steve Kastenbaum contributed to this story
FOLLOW THIS TOPIC