Officials reopen California beach where man died in shark attack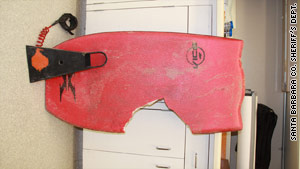 Authorities released a picture of the board that Lucas Ransom was riding when a shark attacked on Friday.
STORY HIGHLIGHTS
Patrols were increased during closure, Vandenberg Air Force Base statement says
No shark sightings were observed or reported, statement says
19-year-old college student was killed in shark attack Friday
(CNN) -- A California beach that had been closed since Friday in the wake of a fatal shark attack was reopened to the public at 8 a.m. Monday (11 a.m. ET), according to Vandenberg Air Force Base, which administers Surf Beach.
Conservation law enforcement officers increased patrols of the Vandenberg's beaches during the three-week closure, the base said in a news release. No shark sightings were observed or reported during that time, according to the release.
In addition to existing signage, officials will post signs reading, "Warning: Recent shark attack -- swim, surf at your own risk," the statement said.
A 19-year-old college student who was boarding off Surf Beach with a friend on Friday, died after a 14- to 20-foot shark bit off his left leg, authorities in Santa Barbara County said.
Lucas McKaine Ransom of Romoland, California, was a junior at University of California at Santa Barbara. He was majoring in chemical engineering.
On Friday morning, Ransom was riding the waves at Surf Beach about 100 yards offshore when a shark pulled him under the water, authorities said. His friend and other witnesses pulled him from the water, authorities said.
Authorities released a photograph of the Boogie Board, showing a 13-inch bite mark.
Air base fire personnel pronounced Ransom dead at the scene.
Federal and state fish and game officials are trying to identify the type of shark.
Surf Beach is one of three that sit on the coastal military base. It was closed soon after attack, an air base spokesman said.
Surf Beach is open to the public, but the other two -- Wall and Minuteman beaches -- are open to base personnel only, the spokesman said. Those two beaches remained closed Monday "in order to facilitate events related to Vandenberg's two-week operational readiness and unit compliance inspections," an Air Force spokesman said.
FOLLOW THIS TOPIC