Eight California city officials plead not guilty to corruption charges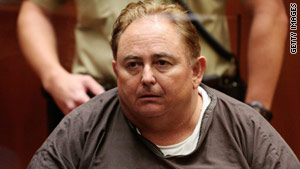 Former Bell City Manager Robert Rizzo has been ordered to wear an electronic monitoring system.
STORY HIGHLIGHTS
NEW: Robert Rizzo, one of 8 accused, faces additional charges of taking $2.4 million
He was making nearly $800,000 annually
Arraignment was originally set for September, but was delayed
Bell is a small city in Southern California; the median income is less than $35,000
Los Angeles, California -- Eight current or former Bell, California, officials pleaded not guilty to corruption charges Thursday morning in Los Angeles County Superior Court.
Former City Manager Robert Rizzo, 56, was also charged Thursday with two additional counts of malfeasance -- for a total of 55 counts against him.
The new charges allege that Rizzo took an additional $2.4 million in public funds by influencing a contract between the city and D&J Engineering. That firm's owner and Rizzo were partners in a horse racing business, District Attorney Steve Cooley said.
Rizzo, who drew controversy for his annual salary of nearly $800,000, was chauffeured to and from the courthouse in a limousine.
Prosecutors unsuccessfully sought to have Rizzo, who is free on bail, held in jail Thursday.
Los Angeles County Superior Court Judge Mary Lou Villar declined to add $2.4 million -- matching the alleged theft in the new charges -- to Rizzo's current $2 million bond. The judge ordered Rizzo to continue wearing a 24-hour electronic monitoring bracelet. Rizzo was also ordered to surrender his passport on Thursday.
Rizzo and the seven other defendants were then arraigned on charges they stole city funds. Another judge, Hilleri Merritt, presided over the arraignment.
The original arraignment had been scheduled for September, but was postponed after a defense attorney asked for more time.
The officials are accused of misappropriating more than $5.5 million, including being paid for phantom meetings, authorities charged.
Among the charges against Rizzo are that he wrote his own employment contracts, which were never approved by the city council, and that he gave out nearly $2 million in unauthorized loans to himself and other city officials, prosecutors said.
The other defendants are former Assistant City Manager Angela Spaccia, 52; Mayor Oscar Hernandez, 63; City Council members Teresa Jacobo, 52, and George Mirabal, 60; and former council members Luis Artiga, 49, George Cole, 60, and Victor Bello, 51, prosecutors said.
Bell, in southeast Los Angeles County, had 36,624 residents as of the 2000 census. The median annual income is less than $35,000.
FOLLOW THIS TOPIC