Georgia agrees to change handling of mentally ill in state hospitals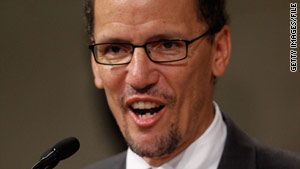 Assistant AG Thomas Perez: The decision affirms that people with disabilities should be treated in integrated settings.
STORY HIGHLIGHTS
The state had agreed in 2009 to improve conditions in its hospitals
Investigation found the mentally ill were still inappropriately segregated
The Justice Department says the change will save Georgia money
Washington (CNN) -- An estimated 10,000 Georgia residents suffering from mental illness or developmental disabilities may no longer be segregated in state hospitals that set them apart from the community, the Justice Department announced Tuesday.
The settlement between Georgia and Justice Department lawyers who enforce the Americans with Disabilities Act was announced by Assistant Attorney General Thomas Perez in Washington. The pact signed Tuesday ends a long-running lawsuit triggered by a Supreme Court decision more than a decade ago.
In that decision, the high court ruled that one of Georgia's state hospitals was impermissibly segregating two people with disabilities when they could have been served in more integrated settings.
The decision "strongly affirmed that people with disabilities have a right to live and receive services in the most integrated setting appropriate for them as individuals," Perez said.
A Justice Department investigation that opened in 2007 found that preventable deaths, suicides and assaults occurred with alarming frequency in Georgia state hospitals. In January 2009, Georgia agreed to a settlement to improve conditions in the hospitals.
But further investigation found that mentally ill people were inappropriately segregated in the state hospitals, triggering the case settlement Tuesday.
The Justice Department stressed that the settlement will save Georgia money. Officials said, for example, that the cost of housing a patient in a state hospital averages about $174,000 annually compared with about $47,000 for those who are provided services at home.
Although the settlement does not involve any other states, Perez said the agreement will be used by the federal government as a "template" for dealing with the issue in other jurisdictions
FOLLOW THIS TOPIC