Fraternity pledges' chant raises concerns at Yale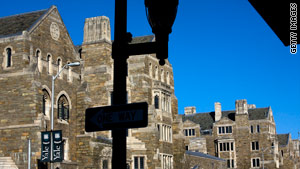 A fraternity's alleged chant trivializing rape has prompted discussion at Yale University and beyond.
STORY HIGHLIGHTS
Delta Kappa Epsilon pledges allegedly shout phrases encouraging rape
A viral video sparks discussion at Yale University
Students meet to discuss the incident
(CNN) -- In a YouTube video that went viral, chants encouraging rape are heard, allegedly being expressed by a fraternity's new recruits as they marched through Yale University last Wednesday.
The potential pledges of Delta Kappa Epsilon's Phi chapter are heard shouting rape-trivializing phrases such as "no means yes" and "yes means anal."
The phrases sparked discussion among members of the Yale community and beyond.
In a statement by the board of directors of Delta Kappa Epsilon, the international fraternity says it strongly condemns the actions of the Yale chapter and acknowledges that the sentiments expressed were, indeed, offensive.
On Friday, approximately 150 students, hailing mostly from The Yale Women's Center and Delta Kappa Epsilon, met and discussed the incident. Mary Miller, dean of Yale College, issued a statement saying the university hopes such discussions will lead to mutual respect.
Miller would not say if disciplinary actions would be taken by the university, saying "any and all disciplinary processes are confidential at Yale."
Requests for further comment from members of Delta Kappa Epsilon's Yale chapter went unanswered. Representatives from The Yale Women's Center declined to comment.

FOLLOW THIS TOPIC