Megachurch Crystal Cathedral Ministries seeks bankruptcy protection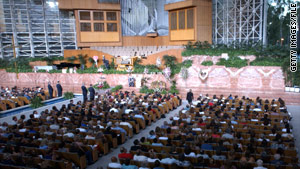 The Crystal Cathedral's main sanctuary seats 2,736 people, according to the megachurch's website.
STORY HIGHLIGHTS
Southern California church will continue services and school operations
Officials blame recession for revenue drop
Pastors say 55-year ministry will overcome financial woes
Los Angeles, California -- The Southern California megachurch Crystal Cathedral Ministries will enter bankruptcy, as it faces lawsuit-filing creditors and a rapid decline in donations because of the recession, church officials announced Monday.
An unspecified small number of creditors have sued the church and obtained writs of attachment, said church spokesman John Charles.
The church had sought a voluntary moratorium with vendors to allow "an equitable repayment plan" under the oversight of the Credit Managers Association of California, but negotiations didn't move fast enough to satisfy creditors, Charles said.
The ministry in Garden Grove, California, is seeking Chapter 11 bankruptcy reorganization.
The church will continue its usual Sunday services, weekly telecast Hour of Power, and the Crystal Cathedral Academy & High School.
"Challenging situations are nothing new to our 55-year ministry," said Dr. Sheila Schuller Coleman, senior pastor at the church.
"Many people said we'd fail when we started our church in a drive-in theater. But look how successful that was! Many said we'd fail in 1970 when we made the commitment to televise our first worship service in Los Angeles and then New York ... but look how far we've come!" she wrote in a statement.
"In 1977, countless persons predicted that our plans to build a 2,800-seat all-glass church in earthquake-prone Southern California would never get off the ground, but we have made history," Coleman added. "Our announcement today to file for the protection of Chapter 11 is just one more chapter in the book that he is continuing to write -- and we know that God's plans are good -- we have no doubt his chapter will be good!"
While an independent researcher found that church supporters were happy with the ministry and had confidence in its leadership, donations dropped last year and during the first three months of this year because of the troubled economy, church officials said.
"I'm very proud that we've completed 40 years on television," founding pastor Dr. Robert H. Schuller said. "We were America's first, weekly televised church service and our audience today is as strong as ever. ... No doubt there will always be a need for this TV ministry to continue -- people need our positive message now more than ever: 'Tough times never last, but tough people do!' "
FOLLOW THIS TOPIC