3-year-old boy reported missing in Pasadena, California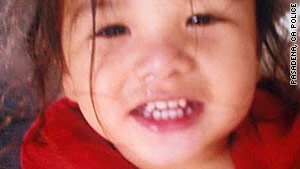 Dylan Kurihara was last seen with his father Saturday, but the father says he can't recall being with him, police say.
STORY HIGHLIGHTS
The boy was last seen Saturday night with his father
The father was later arrested for public intoxication
He does not recall being with the child
(CNN) -- Police in Pasadena, California, issued an Amber Alert on Sunday for a missing 3-year-old boy.
The child was reported missing Sunday morning by the boy's mother, police said in a news release. The boy, identified as Dylan Kurihara, was last seen with his father at 9:30 p.m. Saturday leaving a "parking structure" in a 2001 silver Lexus RX 300, the release said.
Upon investigation, authorities discovered that the father was arrested an hour later Saturday night for public intoxication.
"The father, identified as Joe Kurihara, does not recall being with the child due to his level of intoxication," police said. "He was on foot at the time of his arrest and officers did not know that he was in charge of the child."
Authorities are scouring the area where the boy was last seen and are seeking the public's help in finding him.
Dylan is described as 32 inches tall and weighing about 35 pounds with shoulder-length brown hair and brown eyes. He was last seen wearing a blue and brown checked long-sleeve shirt and dark blue pants.
Anyone with information about his whereabouts are urged to call the Pasadena Police Department at 626-744-4241.
FOLLOW THIS TOPIC