Justice department seeks stay of judge's 'don't-ask-don't-tell' ruling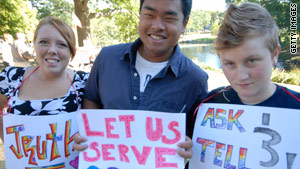 Protesters march at a rally in favor of repealing "don't ask, don't tell."
STORY HIGHLIGHTS
NEW: Obama says "don't ask, don't tell" will end
Log Cabin Republicans will fight government request
Administration says policy discriminatory, but decision belongs to Congress
Justice Department says it defends all laws of Congress
Washington (CNN) -- The Justice Department requested an emergency stay Thursday of a federal judge's injunction stopping enforcement of the military's policy that bars gay men and lesbians from serving openly.
Justice Department lawyers say they want the federal court in California to grant a stay of the injunction, which would remain in effect throughout the appeals process.
The government says the stay would allow for an orderly transition to a policy allowing openly gay men and women to serve in the U.S. military.
Log Cabin Republicans, a gay organization challenging the current law, said it wasn't surprised by the appeal and will promptly oppose the government's proposed stay.
"If this stay is granted, justice will be delayed, but it will not be denied," Log Cabin deputy executive director Christian Berle said in a statement. "Meanwhile, we urge Senate Majority Leader Harry Reid to do what it takes in the lame duck session to end 'don't ask, don't tell' legislatively."
U.S. District Court Judge Virginia Philips in California issued her injunction Tuesday.
Although President Barack Obama has stated his view that the current law is discriminatory, the administration also has said Congress, not the courts, should change the law allowing openly gay individuals to serve in the armed forces. The Justice Department says that it defends all laws of Congress in court.
"This is not a question of whether this policy will end. This policy will end, and on my watch," Obama said Thursday when asked about the issue at a town-hall-style meeting.
Meanwhile, senior military lawyers at the Department of Defense directed military lawyers to stop any proceedings related to "don't ask, don't tell," a Pentagon spokesman said.
The staff judge advocate generals from the military services -- the senior military lawyers -- sent an e-mail informing the military to abide by the injunction.
"The Department of Defense will of course obey the law," said Pentagon spokesman Col. Dave Lapan, "and the e-mail noted that, in the meantime, the Department will abide by the terms in the court's ruling, effective as of the time and date of the ruling,"
CNN's Terry Frieden and Larry Shaughnessy contributed to this report.