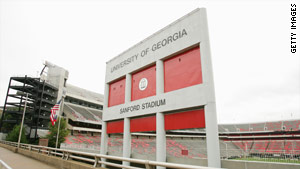 The University of Georgia is one of the colleges named by the State Board of Regents.
STORY HIGHLIGHTS
ACLU decries Board of Regents vote
Illegal immigrants won't be able to attend five specific public colleges
They will not be able to bump qualified residents at other schools
(CNN) -- Georgia's public colleges have adopted new policies that officials say will prevent illegal immigrants from attending five high-demand schools and from being admitted ahead of legally and academically qualified residents at the rest of the state's public institutions of higher learning.
The State Board of Regents, which oversees public colleges in Georgia, also approved legal penalties for providing incorrect information on tuition-related forms.
The regents, who have been under public pressure about the admission of illegal immigrants, say the issue has not been a significant problem.
Only 501 of 310,000 students within the university system are undocumented and they already pay out-of-state tuition, said regents spokesman John Millsaps.
But the new tuition policy, which takes effect in fall 2011, enables Georgia to "strengthen the ability of institutions to properly classify students for tuition purposes," the board said in a statement after the vote Wednesday.
"We are an educational agency in the business of preparing individuals for careers requiring knowledge and skills," said regent James Jolly. "We are not in the immigration business, nor are we equipped to serve as the immigration authorities."
The regents want to ensure that undocumented students -- no matter how academically qualified they may be -- don't move ahead of academically and legally qualified applicants at schools that for the past two academic years had to reject qualified applicants because of a lack of space or other reasons.
Not all of the 510 undocumented students are illegal immigrants, the regents say. Some may have lost their legal status or cannot affirm citizenship. Regents ordered schools to verify a legal presence in the United States for those seeking in-state tuition.
Under the new policy, illegal immigrants will not be able to attend the University of Georgia in Athens, Georgia Tech in Atlanta, the Medical College of Georgia in Augusta, Georgia State University in Atlanta and Georgia College & State University in Milledgeville, all of which have turned away students.
That list of banned schools may change each year, depending on circumstances.
Those five schools had only 27 undocumented students enrolled this fall, officials said.
The system's other 30 colleges and universities will be able to admit undocumented students if they pay out-of-state tuition, which more than covers the cost of educating a student who pays it, and if they are not accepted ahead of qualified students, according to Millsaps.
The space crunch at the five named schools is not usually present at the other 30, which accommodate all students who meet academic standards.
"Not enough Georgians graduate from high school and pursue post-secondary education," Millsaps said. "We need more Georgians to pursue higher education."
The American Civil Liberties Union of Georgia decried the vote and said undocumented college students are "by and large talented high achievers who arrived in the U.S. as children because of the choices their parents made. They grew up in this country and persevered against the odds" to graduate from high school.
The ACLU also argues federal databases used for some legal status verification are error-filled.
Controversy over admissions erupted after a student at Kennesaw State University in the Atlanta suburb of Kennesaw was found to be in the United States illegally. She was being charged in-state tuition.
The issue has come up in the gubernatorial race this fall in Georgia. Democrat Roy Barnes and Repulican Nathan Deal both oppose allowing illegal immigrants to attend public colleges in the state.
South Carolina does not allowed undocumented students in public colleges.
CNN's Phil Gast contributed to this report.