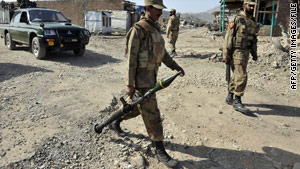 The White House review is tough on Pakistan's inability to make gains against militants in South Waziristan.
STORY HIGHLIGHTS
Pakistan not doing enough against Taliban and al Qaeda, report suggests
Pakistan's military has avoided direct conflicts, says copy of report obtained by CNN
In a key area, it says, Pakistan has carried out only "small-scale operations"
In other Pakistan-related developments, a U.S. diplomat apologizes for the deaths of two Pakistani border guards in a coalition helicopter attack.
(CNN) -- Despite repeated Obama administration claims in public that Pakistan is working hard to crack down on militants, a private White House review uses unusually tough language to suggest the ally is not doing nearly enough to confront the Taliban and al Qaeda, according to a copy of the report to Congress obtained by CNN.
The report notes that from March to June, the Pakistani military "continued to avoid military engagements that would put it in direct conflict with Afghan Taliban or [al Qaeda] forces in North Waziristan. This is as much a political choice as it is a reflection of an under-resourced military prioritizing its targets."
The report notes bluntly that despite having a presence of 140,000 military and paramilitary personnel, the Pakistani military has been "nonetheless constrained to disrupting and displacing extremist groups without making lasting gains against the insurgency."
The White House assessment is particularly tough on Pakistan's inability to make gains in South Waziristan, where many analysts believe key al Qaeda leaders have gained a safe haven to use as a base to plot terror attacks against Western targets.
"In South Waziristan, the Pakistan military continued to conduct small-scale operations against those militants who did not flee in late 2009," the report says. "But the military largely stayed close to the roads and did not engage against those TTP (Tehrik-e-Taliban) militants who returned after fleeing into North Waziristan."
The report also alludes to the repetitive nature of the country making brief progress, only to fall back down, noting that Pakistani military forces recently disrupted insurgent networks in the north. "It is notable that some of these areas had been previously cleared on numerous occasions," it says.
While the report to Congress has not been publicly released by the White House, press secretary Robert Gibbs tried to downplay the tough language by telling reporters, "I don't think this comes as a surprise" that the assessment "finds some challenges" in getting Pakistan to crack down on militants.
"But at the same time we see progress," Gibbs said. "Pakistani troops have sacrificed thousands to take on terror. ... They are addressing and dealing with the threat."
Gibbs and other Obama officials, such as Secretary of State Hillary Clinton, were fairly upbeat about their assessments of Pakistan's efforts earlier this year, though they have gotten tougher in recent days.
"I have to stand up for the efforts the Pakistani government is taking," Clinton said on CBS' "60 Minutes" in May. "They have done a very significant move toward going after the terrorists within their own country."
The new tough line from the White House in the report to Congress comes as the president faces increasing pressure from fellow Democrats to get tough with Pakistan. Sen. Carl Levin, chairman of the Senate Armed Services Committee, suggested in a speech last week that the Pakistani government is selective in its crackdowns.
"They have gone after some terrorist targets inside Pakistan but the ones they go after are the ones that threaten the Pakistan government," said Levin, D-Michigan.
Jennifer Kohl, a spokeswoman for the House Armed Services Committee, added that the new White House assessment shows much more progress is needed from Pakistan.
"Our relationship with Pakistan is one of the most critical when it comes to our national security and our efforts in Afghanistan," Kohl said. "The report demonstrates that while we've undoubtedly come a long way with Pakistan, we still have a long way to go. It highlights the need for us to continue to work with the Pakistani military to build their capacity to take on terrorist groups operating in Pakistan, many of which pose a direct threat to the U.S."
The report is also extremely tough on Pakistan's human rights record.
"Over 1.5 million people are still displaced from Pakistani military operations to combat insurgents in the northwest; and there was a lack of progress on improvements in human rights," the report said. "Reports of gross violations of human rights continued. There was some evidence that the Pakistani military has made initial efforts to stop these abuses. However, despite U.S. engagement on the issue, reports of ongoing abuses continue to surface."
FOLLOW THIS TOPIC