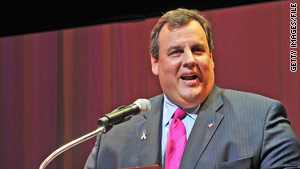 New Jersey Gov. Chris Christie is expected to halt a train tunnel project beneath the Hudson River, a source says.
STORY HIGHLIGHTS
Source says New Jersey governor will stop the project
Gov. Chris Christie says decision hasn't been made
Governor is concerned about overruns on the $8.7 billion project
Proponents say overruns could be paid for by a ticket surcharge
(CNN) -- Federal authorities had little to say Wednesday about reports New Jersey Gov. Chris Christie was preparing to yank the plug on a multibillion-dollar train tunnel -- partially funded by stimulus dollars -- beneath the Hudson River.
Christie denied Tuesday that he'd made a decision about the project, which he put on a 30-day hold last month to re-evaluate the $8.7 billion project amid concerns that it could run over budget by as much as several billion dollars.
"Secretary Ray LaHood and Gov. Chris Christie recently spoke by phone to discuss the governor's 30-day 'hold' on the ARC project," Department of Transportation spokesman Brian Farber said. "Given that this project represents the single largest transit investment ever made by the Federal Transit Administration, the secretary and governor agreed to have staff work together to further refine the estimated cost of the entire project, and those conversations are ongoing."
A source close to the project told CNN Tuesday that Christie was expected to announce he is halting the project indefinitely.
The Port Authority of New York and New Jersey and the Federal Transit Administration have each put up $3 billion for the Access to the Region's Core project, with New Jersey adding in $2.7 billion. Opponents of the project, however, would rather see New Jersey's portion go to the state's Transportation Trust Fund, which is rapidly running out of money.
New Jersey Transit, which is the lead agency on the project, had no comment on the reports, as did New York Gov. David Paterson's office.
Christie put the project -- which would double the number of commuter trains carrying passenger between New Jersey and New York and increase the number of Amtrak trains in the northeast corridor -- on hold on September 10. The 30 day-period ends this week, but Christie said he has not made a decision.
"There is only one source on what is going to be happening in New Jersey, and you are looking at him," the Republican governor told CNN affiliate WGN in Chicago. "I have not made any decision. I have not been given the information yet by my executive director of New Jersey Transit, my commissioner of transportation about what the real cost of the ARC tunnel going from New Jersey to New York is going to be. And until I get those real costs, I can't make a decision."
Christie was attending a campaign event for Bill Brady's Illinois gubernatorial campaign in Chicago and said he would meet with transportation officials when he returns to New Jersey.
New York City Mayor Michael Bloomberg noted that the city isn't a party to the project -- although the mayor said he "always thought that it should be."
"I think it would be great if this tunnel does get built," Bloomberg said. "It will help New York City, bringing a lot of people in and out. People who want to work here, people who want to shop here, enjoy New York and everything it has to offer, but this is not something the city can put money into."
According to New Jersey Transit and the Port Authority of New York and New Jersey, the project -- which includes an expansion of New York's Penn Station -- would create 6,000 jobs and take 22,000 cars off the road.
Proponents of the project proposed covering any budget shortfalls with a surcharge on train tickets or an increase in New Jersey's gasoline tax. While New Jersey has the third lowest tax on gasoline in the nation, Christie has said he's opposed to increasing the tax on gasoline.
If Christie kills the project, the federal government would redirect its funds elsewhere, and the $600 million already spent on the project would not be reimbursed.
FOLLOW THIS TOPIC