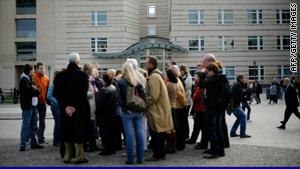 Tourists stand in front of the U.S. Embassy in Berlin, Germany, on Monday.
STORY HIGHLIGHTS
NEW: State Department spokesman says threats warranted the travel alert
Information is credible but not specific, he says
The alert was based on "cumulative analysis," he says
The department explains that an alert is less serious than a warning
Washington (CNN) -- The United States issued a general travel alert about Europe in response to concerns about terror threats because the information was not specific enough to name countries of concern, a State Department spokesman said Monday.
"We have credible information that justified the alert, but it is not specific at this point," State Department spokesman P.J. Crowley told reporters.
The United States, Crowley said, has been tracking information about the threat and based its alert on what he called "cumulative analysis."
Attorney General Eric Holder offered a similar assessment, telling reporters that the cumulative information warranted action.
"I wouldn't say that we have specific information about a particular place, a particular time, and yet we have, I think, sufficient information that justified the issuing of the alert," Holder said.
Asked why the State Department issued a travel "alert" instead of a travel "warning," Crowley said a warning is "more severe" and "more actively encourages people not to travel."
Crowley said he did not believe the more drastic "warning" had been considered. In an effort to clear up the confusion, the State Department is even using Twitter to explain the difference.
The United States does not have specifics about potential targets, two U.S. officials from different agencies told CNN. One of the officials said that an alert, not a warning, was issued, showing that there "isn't perfect visibility" about the type, location and means of any potential attacks and who the attackers could be.
The source dismissed media reports of specific plots as "a lot of speculation," insisting there is "nothing definitive." The list of potential targets is wide, the official said, including airports, other modes of transportation, tourist areas -- anywhere Westerners might congregate.
The official said there is more than one plot and each is at a different stage of development. A Mumbai-style attack is still of concern, but so are other methods.
The official said if the United States had knowledge of specific countries and locations, "there would be a quick mobilization to address any imminent threat against a specific target."
As word of the threats emerged, the State Department began considering issuing an alert, the agency spokesman said.
"We had been looking at this question for some time," Crowley said. "It wasn't necessarily that we had new information on Saturday, it was the cumulative analysis over a lengthy period of time. But as we considered it, we thought it was the right thing to do."
He added, "We're saying to American citizens: Continue with your travel plans if they include Europe, but be cautious and aware that we are following multiple streams of threat information and we felt, having tracked intelligence over a lengthy period of time, it was appropriate to issue this alert at this moment.'
White House spokesman Robert Gibbs also said the travel advisory was based on "potential threats" in Europe and added that it "isn't related to the United States."
"We are concerned enough to alert those in Europe to be aware" of the threat, Gibbs told reporters. He refused to discuss specifics of any terrorist plots.
"We have been tracking various threats for a while," he said. "I don't think this is tremendously out of the norm in terms of ensuring that those who are traveling in Europe are aware of what's out there."
FOLLOW THIS TOPIC