Leaning electrical tower blocks Houston port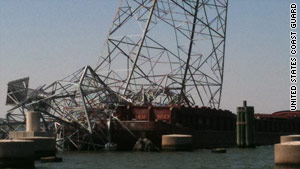 A high voltage tower learns over Texas' Houston Ship Channel on Monday, a day after a tow vessel hit it.
STORY HIGHLIGHTS
"Big John" crane is to pick up the leaning tower
At least 30 ships are waiting for the channel to be cleared
The cause of the accident is under investigation
(CNN) -- The Port of Houston will remain closed until at least Tuesday evening, a U.S. Coast Guard spokesman said, a day after a tow vessel pushing three barges rammed a high voltage tower and left it leaning precariously over the ship channel.
Workers have brought in a crane known as "Big John," which they plan to use to get the steel tower out of the way, said Coast Guard spokesman Capt. Marcus Woodring,
"Right now the tower is sitting partially on the barge and also probably being supported by the high tower lines that are there between the other towers," Woodring said. "Once the Big John hooks up and takes the load off of the tower, then Center Point Energy can get up there, disconnect the lines, reel them in and then we can cut the base of the tower, pick the tower up and put it over on the bank and get the ship channel open."
The accident happened early Sunday morning at the narrowest point of the ship channel, just north of the Exxon Baytown terminal, which, Woodring said, is the only one of five terminals still open.
Meanwhile, at least 30 ships were unable to move -- 18 inbound and 12 outbound. About 19 of the Houston Ship Channel's 25 miles are blocked.
"The situation is a little bit unstable," Woodring said. "The lines are sagging, and we cannot allow vessels to pass underneath, obviously, with the unstable situation and the chance of those lines falling in the water."
"Once we do get the channel open, it'll take a couple of days to get through the backlog."
Woodring said the tower was undergoing maintenance at the time of the accident, and no electricity was flowing through the lines. He added that the cause of the accident is under investigation.
FOLLOW THIS TOPIC