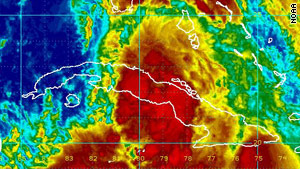 A satellite image shows Tropical Storm Nicole over Cuba on Wednesday.
STORY HIGHLIGHTS
NEW: Two dead, 12 missing across Jamaica
Rain swells rivers, closes bridges and floods neighborhoods
Parts of Florida could get drenched
There may be tornadoes in the Florida Keys
(CNN) -- Two people are dead and 12 were missing Wednesday after a storm system dumped at least 8 inches of rain on portions of Jamaica, authorities said.
A teenage boy died and five others were missing when a house collapsed in a gully in the Barbican-Liguanea neighborhood. Another person died after being swept away in Flagaman in western Jamaica, officials said.
The island has endured at least 12 inches of rain since Sunday, and may see more precipitation Thursday.
Some neighborhoods were under 4 to 5 feet of water, Ronald Jackson, director general of the Office of Disaster Preparedness and Emergency Management, told CNN Wednesday evening.
About 30 roads were affected, including many on the island's Northern Range, Jackson said. An undetermined number of residents were displaced.
Flooding and landslides across the Caribbean were caused by Tropical Storm Nicole, which dissipated over the Straits of Florida. It was expected to skirt the southeast coast of the state while dropping heavy rainfall.
Authorities received widespread reports of flooding and damaged roads, homes and bridges, said Richard Thompson, deputy director general of the disaster agency.
Officials will get a better assessment when the weather improves, said Thompson, adding this was the worst storm in Jamaica since Hurricane Gustav in 2008.
"The drainage system has been overwhelmed," he said. Some areas have been cut off by landslides, Thompson said.
CNN iReporter Daniel Brown said a couple of houses in Kingston collapsed from all the rain and mudslides.
Brown, 34, said Wednesday it had been raining steadily on Jamaica since Sunday.
The governments of Cuba, Grand Cayman and the Bahamas discontinued all tropical storm warnings, the National Hurricane Center said. Tropical storm warnings and watches for Florida were discontinued.
Five to 10 inches of rain were expected for the Cayman Islands, Jamaica and Cuba, and isolated amounts of 20 inches are possible in higher elevations in Cuba and Jamaica.
Portions of Cuba and Jamaica had already received 8 inches of rain by Wednesday afternoon. Guantanamo Bay in Cuba reported sustained winds of 34 knots with gusts to 40 knots.
As the storm moves ahead, 5 to 10 inches of rain are possible over parts of southern Florida. There could also be isolated tornadoes along the coast of southeastern Florida and the Florida Keys.
A 5 p.m. ET advisory Wednesday said the system had maximum winds of 40 mph (65 kpm) .
The center of the system was about 165 miles (270 kilometers) west of Nassau, Bahamas, moving toward the Florida Keys. It was moving northeast at 12 mph (19 kph) and will gradually increase in speed over the next 24 hours.
The center was moving over the Florida Straits and will move near the northwestern Bahamas on Wednesday night.
The remnants of Nicole are forecast to move to the east of the Carolinas, with the center moving well offshore on Thursday.
Heavy rain over the past week (not associated with Nicole) is currently causing flooding in and around Wilmington, North Carolina, according to the National Weather Service, though only minor river flooding is forecast in the eastern Carolinas through this weekend.
Flooding should begin to subside across the region on Friday.
Flood watches are in effect for the entire northeastern United States through Friday morning. Significant rises are likely in creeks and streams, but river flooding will be minimal, the weather service said. Flash flooding will be the primary threat as the remnants of Nicole interact with a cold front that is slowly moving across the area on Thursday.
CNN's Phil Gast and meteorologists Sean Morris, Ross Hays Jr., Taylor Ward and Chad Myers contributed to this report.