Cubans brace for tropical depression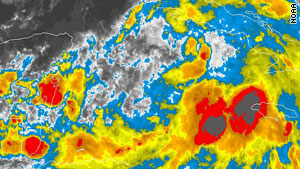 At 5 p.m. Tuesday, the tropical depression was about 330 miles south-southwest of Miami, Florida.
STORY HIGHLIGHTS
NEW: Cuba to get first direct hit of the Atlantic season
Tropical storm warnings cover southeastern Florida, parts of Cuba and the Bahamas
Depression could become Tropical Storm Nicole late Tuesday
Havana, Cuba (CNN) -- Cubans braced for high winds and heavy rain Tuesday as a tropical depression pushed toward the island nation, forecasters in both Cuba and the United States said.
The storm will be the first of the season to hit Cuba directly, with storm projections coursing directly over the capital of Havana. No evacuation orders in Cuba have been given, according to island chief meteorologist Jose Rubiera.
"There will be a lot of rain and wind in the central and eastern parts of country," Rubiera said. "But it doesn't look like it will grow into a hurricane."
Tropical storm warnings -- meaning tropical storm conditions can be expected within 36 hours -- covered the eastern provinces of Cuba and the central and northwestern Bahamas, along with southeastern Florida from Jupiter Inlet southward to East Cape Sable and Florida Bay as well as the Florida Keys.
A tropical storm watch -- meaning that tropical storm conditions are possible within 48 hours -- was in effect from north of Jupiter Inlet to Sebastian Inlet and from north of East Cape Sable to Chokoloskee.
Forecasters said the depression could become a tropical storm Tuesday night or Wednesday. If and when it does so, it will become Tropical Storm Nicole.
"It's possible it will reach minimal tropical storm levels," National Hurricane Center spokesman Dennis Feltgen told CNN. "It's a very large and disorganized system, so the primary concern is heavy rains."
Florida could expect between 4 and 8 inches of rain; Cuba is expecting slightly more, forecasters said.
The island is still reeling from the effects of three major hurricanes that caused severe damage across country in 2008, but this year's active hurricane season has so far left Cuba largely unaffected by any major storm.
At 8 p.m. ET, the depression was centered about 110 miles (175 kilometers) south of Havana, Cuba, and about 325 miles (520 kilometers) south-southwest of Miami, Florida, moving to the north-northeast at 8 mph (13 kph). Maximum sustained winds were at 35 mph (55 kph), just below the tropical storm threshold of 39 mph (63 kph).
Forecasters said the strongest winds and heaviest rains were taking place a couple hundred miles to the east and southeast of the depression's center.
The storm is expected to be short-lived, however, dissipating by the end of the week.
FOLLOW THIS TOPIC