San Bruno gas line explosion and fire claims 8th victim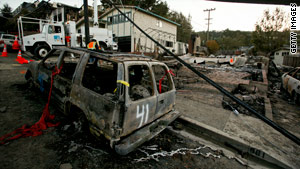 The explosion and resulting fire destroyed 37 homes in San Bruno, California.
STORY HIGHLIGHTS
NEW: State will not receive additional federal aid
An autopsy is being performed on eighth victim
37 homes were destroyed in the blast and subsequent fire
The NTSB investigation is ongoing
No FEMA aid coming for victims of explosion
San Francisco, California (CNN) -- An eighth victim of the September 9 natural gas explosion and fire in San Bruno, California, has died, according to San Mateo County Coroner Robert J. Foucralt.
An autopsy is being performed on James Emil Franco, 58, to determine the specific cause of death.
Meanwhile, federal officials have turned down California's request for federal disaster aid in the aftermath of the deadly explosion, a spokesman for the Federal Emergency Management Agency said Tuesday.
"FEMA has been in close contact with the state since the fire occurred, and based on the information they provided, it was determined that there was not a need for additional support at this time, beyond the federal assistance provided for response activities," said FEMA spokesman Brad Carroll.
A federal official told CNN the determination was based on information provided by the state, and the state can appeal within 30 days with additional information. FEMA cannot duplicate benefits, whether it's eligible insurance payments, or payments made by a responsible party, the official said.
The National Transportation Safety Board investigation into the cause of the ruptured Pacific Gas & Electric pipeline is ongoing.
Thirty-seven homes were destroyed in the blast just south of San Francisco.
FOLLOW THIS TOPIC