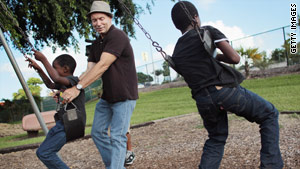 Martin Gill with his sons, now 6 and 10, in a South Florida park.
STORY HIGHLIGHTS
Court: A Florida law prohibiting adoption by gay men and lesbians is unconstitutional
A Miami man filed suit against the state to adopt two boys to whom he was legal guardian
A judge wrote that Gill's efforts to raise the boy is "nothing short of heroic"
Florida attorney general has not made a decision on whether to appeal
(CNN) -- A few days before Christmas in 2004, Martin Gill got a call from a social worker with the Florida Department of Children & Families.
Could he and his partner take in a baby and his 4-year-old brother? The children had nowhere to go, Gill was told. The state had removed the boys from their mother's custody due to neglect. She already had 10 children and another baby on the way, the social worker said. The boys had different fathers; neither was around.
"We knew we wanted to keep being foster parents," Gill said. "When we got the offer to take the boys, we said yes. Within hours of that call, I had these kids at my doorstep. It happened that quickly."
Gill had been a foster parent to seven children before that day, he said, and each had been adopted away by other families. He didn't want to say goodbye again.
The ACLU, on Gill's behalf, filed suit to have Florida's 33-year-old law prohibiting gay adoption struck down. Gill was victorious Wednesday when the state's Third District Court of Appeals issued a ruling that said allowing gay men and women to be foster parents, but not adopt, did not have "rational basis" and violated the equal protection clause in the state constitution.
The state has 30 days to appeal the ruling. "We will be discussing with our client whether or not they want to appeal today's ruling," Florida Attorney General Bill McCollum said in a written statement.
Gov. Charlie Crist praised the decision to reverse the ban, and said he would move to immediately stop enforcing it.
"It's been a whirlwind for us but we've kept the boys away from all this," Gill told CNN.com Thursday. "The most important thing to us is that they never once felt like they could have been taken from the only home they really know."
Read more about Wednesday's appeals court ruling
In his ruling, Judge Vance E. Salter called the efforts of Gill and his partner to raise the boys "nothing short of heroic."
"They were completely traumatized for a while," Gill recalled. "At first the only way I could get [the then 4-year-old] to interact was when he played with the dog."
The child was so accustomed to taking care of the baby that he would grab the bottle out of Gill's hand and feed his brother. When the bottle was two-thirds empty, the 4-year-old would refill it, knowing exactly how much milk to pour.
"He would insist on holding his brother and burping him," said Gill.
When the baby dirtied his diaper, the 4-year-old came to Gill with a Pamper in his hand. "He knew his job. This is what he did. He had to be the parent to this baby," Gill said. "But, I explained to him, 'You get to play, you get to be the child. You don't have to take care of your brother.'"
That greatly upset the 4-year-old and it took a long for him to learn how to be a kid, Gill said. As a compromise, the boy -- now 10 -- has a full-time caretaker job, to give the dog its food and water.
Lawyers gave oral arguments in the case last year. Every Wednesday the Third District Court of Appeals issues rulings.
"Since the arguments, I would check the court website every Wednesday, a nervous wreck," Gill said. "I was so afraid of getting bad news."
Yet the boys were never made aware of the stress, he said. "We want to give some normalcy, stability, love," he said. "I think we've done that so far and I hope this case can give other people who want to adopt the same thing."
Read Wednesday's ruling by the Florida Third District Court of Appeals
FOLLOW THIS TOPIC