Wisconsin DA says he's not stepping down amid texting controversy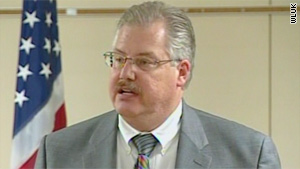 Calumet County District Attorney Kenneth Kratz: "My behavior was inappropriate."
STORY HIGHLIGHTS
Embattled Wisconsin DA apologized for behavior
Calls for Kenneth Kratz's resignation continue
Kratz: "I intend to continue the service of Calumet County DA"
Kratz resigned from Crime Victims Rights Board in December 2009
(CNN) -- A Wisconsin prosecutor apologized Friday for sending personal texts to a domestic abuse victim while prosecuting her former boyfriend, but said he won't step down from office.
Calumet County District Attorney Kenneth Kratz said he intended to stay in office "as I have been elected to do."
E-mails from November 2009 between Kratz and the Wisconsin Department of Justice show Kratz denied wrong-doing for weeks before finally saying, "My behavior was inappropriate."
"This behavior showed a lack of respect, not only for my position, but for the young woman that was involved."
Kratz said he has already seen a psychotherapist, and may consider taking personal time off to seek additional treatment for this issue.
In recent months, several local and state domestic violence organizations called on Kratz to resign as district attorney.
"There is no way any victim can have trust in that office," said Beth Schorr, executive director of Harbor House Domestic Abuse Programs in Calumet County. She said she stands behind a statement from the Wisconsin Coalition against Domestic Violence, which said Kratz "attempted to minimize and mislead" regarding the matter.
E-mails between Kratz and the state's Department of Justice suggest Kratz sent 30 text messages over a three-day period to the woman, who later contacted local police and "expressed concerns that if she did not do what [Kratz] wanted her to, [Kratz] might throw her case or possibly retaliate in other ways," according to the Wisconsin Justice Department.
Officials said some of Kratz's texts "cross the line and can be construed as sexual harassment."
They cited a specific text that refers to the woman as a "tall, young, hot nymph," and another that says, "You are beautiful and would make a great partner someday."
Kratz said that in the e-mails with Wisconsin Justice Department officials that the texts "did not appear sexual" to him.
After the incident became public, Kratz resigned his position as chairman, and district appointee to the Wisconsin Crime Victims Rights Board in December of 2009.
Officials have said previously that Kratz did not violate the law or any rules of professional conduct, but said his conduct was "inappropriate" and "could easily have adversely impacted his ability to successfully prosecute his case on behalf of the state."
Kratz, in his appointment to the CVRB in 1998, drafted statute Ch 950, which states that "crime victims are to be treated with dignity, respect, courtesy and sensitivity and that prosecutors are to honor and protect the rights of crime victim," said Wisconsin Justice Department officials.
FOLLOW THIS TOPIC