Alligator nabbed near elementary school in Florida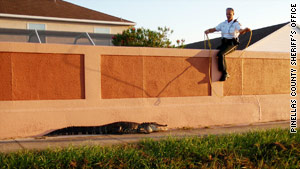 Officers eventually were able to tape the gator's mouth shut and handcuff its hind legs wildlife personnel arrived.
STORY HIGHLIGHTS
A school crossing guard spotted the 7.5-foot gator Monday morning
It was approaching an intersection where children were crossing to school
Deputies were able to rope the alligator until wildlife officials arrived
(CNN) -- Denise Leone has been a school crossing guard in Pinellas County, Florida, for more than two years, helping children safely cross the road each morning on their way to Forest Lakes Elementary School.
But on Monday morning, one of Leone's young charges was not like the others -- a 7.5-foot alligator was lying on a sidewalk along the main road leading to the school in Oldsmar, about 15 miles northeast of Clearwater.
Leone immediately called Pinellas County sheriff's deputies, who summoned a trapper and kept watch over the alligator until the trapper could arrive, the Pinellas County Sheriff's Office said in a news release.
But before the trapper -- who was an hour away from the scene -- could get there, the alligator was on the move, heading toward an intersection where children were crossing the street on their way to school.
Three quick-thinking deputies were able to secure a rope around the gator's neck and tail, according to the sheriff's office, prompting the angry reptile to violently roll and thrash in an effort to escape.
The deputies, identified as Jeffrey Crandall, Michael Bard and Richard Serra Jr., ultimately were able to tape the gator's mouth shut and handcuff its hind legs until Florida Fish and Wildlife Conservation Commission personnel arrived and took the gator into custody.
All captured alligators over 4 feet long are processed for their meat and hide, according to Gary Morse of the Fish and Wildlife commission.
"We have no shortage of alligators in Florida," he told CNN, adding that there are more than 1 million adult alligators in the state so it's "not a conservation issue."
FOLLOW THIS TOPIC