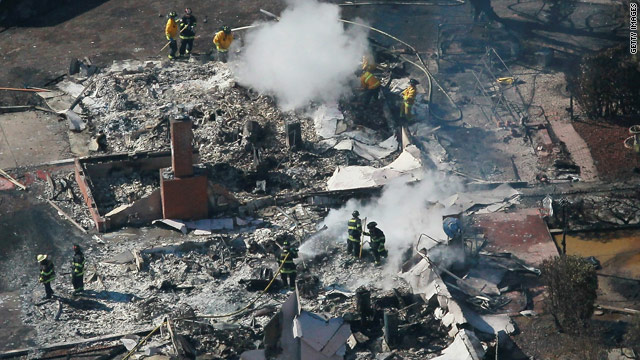 STORY HIGHLIGHTS
NEW: Number of missing down to four after two people are located alive
A "surreal" scene greets returning residents
Aging gas line had a "relatively high risk" of failure document states
37 homes were destroyed and 4 people were killed in the blast
iReport: Pictures of devastation in in San Bruno, California.
San Bruno, California (CNN) -- Residents of a San Francisco, California, suburb ravaged by a massive gas explosion and fire were met with what one called a "surreal" scene when authorities allowed them to return Sunday.
"I saw all this from the news, but being here the first time coming up here and looking at all this -- no words. I can't really explain," San Bruno resident Walter McCaffrey told CNN.
The disaster began when a gas transmission line ruptured in San Bruno, near San Francisco International Airport. The blast blew in the doors of a grocery a quarter-mile (400 meters) away, and the explosion and resulting fire killed at least four people, injured 52 others and destroyed 37 homes. Another four people remained unaccounted for Sunday, according to a news release from the City of San Bruno, which said two of the previously reported six missing had been located.
Neighborhood residents gathered in knots on the streets and sidewalks Sunday afternoon as firefighters and investigators poked through the remains of some of the devastated homes.
"It's pretty surreal," said McCaffrey's wife, Cherry McCaffrey. She said their home was damaged -- how severely, they weren't sure -- "But the home two doors down is burnt down."

Video: New remains found

Video: Are Americas pipelines safe?

Video: Aftermath of gas explosion

Video: California neighborhood on fire
San Bruno City Manager Connie Jackson said residents of damaged homes would be processed and escorted to their homes in groups to ensure safety and privacy. But with the cause of the blast still under investigation, families whose houses were destroyed by the fire have not yet been allowed to return.
The pipeline at the heart of the blaze was installed in 1948 and had a "relatively high risk and likelihood of failure," according to a document prepared by its owner, Pacific Gas and Electric, and obtained by CNN. The document recommended the line be replaced, warning that its location in a populated area "makes the risk of a failure at this location unacceptably high."
National Transportation Safety Board Vice Chairman Christopher Hart said a 28-foot section of the pipe that was blown about 100 feet in the blast was excavated and being packed up to be sent to the agency's metallurgy labs in Washington, where it will be studied "intensively."
Hart also said that the NTSB has just begun to receive documents about the pipeline from PG&E, which will be included in the investigation.
State and federal officials are looking into what happened before the explosion. Some residents have said they reported smelling gas in the weeks and months before the disaster, but PG&E President Chris Johns has said the company is scouring phone records and had not found evidence that complaint calls were placed.
"Nobody, PG&E included, could have imagined something as horrible and terrible as the San Bruno blast and fire," said Mark Toney, executive director of the San Francisco-based Utility Reform Network. "But the fact remains that when PG&E got the reports of gas leaks from several customers over several days, they should have realized that this was an area that was old, that was at risk -- that they identified as high risk."
Hart appealed to residents to contact the NTSB if they called in reports of gas odors and to send in any video they might have captured of the explosion and subsequent fire.
CNN's Ted Rowlands and Stan Wilson contributed to this report.
FOLLOW THIS TOPIC