In fire-ravaged neighborhood, one family can go home again
STORY HIGHLIGHTS
The McCaffrey family was one of the first allowed back in to the fire-ravaged area
They found their home with only minor damage, but devastation all around them
"We are just so fortunate," says Cherry McCaffrey
San Bruno, California (CNN) -- As Walter McCaffrey and his wife, Cherry, stood on their San Bruno, California, balcony Sunday, there was a sigh of relief amid devastation all around their two-story home.
"I'm just cleaning up now and trying to get my family back together," said Walter whose property sustained only minor damage.
The McCaffreys were among the first residents escorted back to their once-quiet neighborhood following Thursday's gas line explosion that destroyed 37 homes, killed at least four people and forced hundreds of others to run for their lives.
Just moments after the explosion, McCaffrey began recording iPhone video of the towering flames from his backyard patio and called his wife, urging her to stay out of the area.

Video: Wanting explosion answers

Video: Dramatic photos of San Bruno fire

Video: iReporter shares blast photos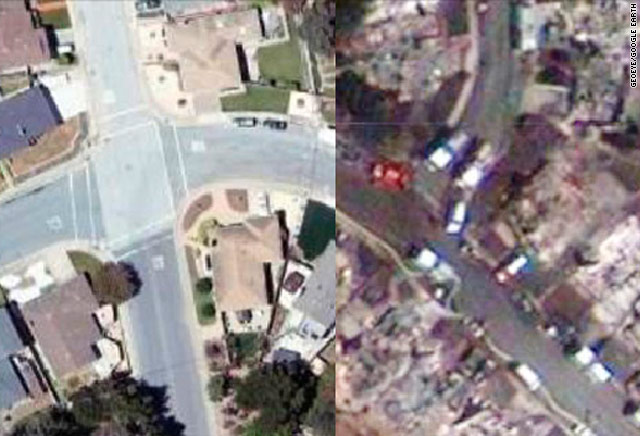 San Bruno: Before and after
"Cherry and our three children had just driven away when I heard the blast," said McCaffrey. "It shook the house, and everything around me was so hot that I couldn't get outside."
In the iPhone video, obtained by CNN, McCaffrey can be heard asking his neighbors if a jetliner had crashed as he scrambled to grab a water hose and prepare to battle the flames that rapidly engulfed his neighborhood. But the fire and heat became so intense that McCaffrey said he only had a few minutes to escape.
For three excruciating days, the McCaffreys wondered if their friends had made it out safely and whether their home and personal belongings had vanished. "I am grateful to know that our family is safe and sound and the families that we know of have no casualties," said Cherry McCaffrey.
On Sunday afternoon, there was more relief. "It's pretty surreal to be home, knowing that our home is still here just to think the luck we have of not going through what those who lost their home," she said. "We are just so fortunate."
As coroner's investigators scoured through debris, and swarms of Pacific Gas and Electricity crews worked to restore gas and power to homes, Walter MCaffrey, who moved here three years ago with his family, said he remains constantly worried.
"When PG&E came by and turned on the gas I was asking them if this is going to be safe," he said.
"I was assured that everything is going to be fine."
FOLLOW THIS TOPIC