Judge: No delay in ruling blocking stem-cell research funding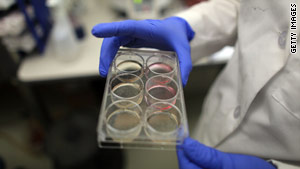 Allowing stem cell research to resume would "flout the will of Congress," says a judge.
STORY HIGHLIGHTS
A federal judge barred the use of public funds in embryonic stem-cell research
The Obama administration had asked for a stay in the judge's injunction
The judge says he will not delay the injunction
Washington (CNN) -- A federal judge Tuesday rejected the Obama administration's request to stay his recently imposed injunction against use of public funds in embryonic stem-cell research.
District Court Judge Royce Lamberth said he could not agree to delay his injunction while the case is appealed.
"Defendants (the government) are incorrect about much of their 'parade of horribles' that will supposedly result from this Court's preliminary injunction," Lamberth wrote in his court order.
The "horribles" he referred to are an extensive list of research projects outlined by the National Institutes of Health that will have to be shelved if a stay is not granted.
"Congress has mandated that the public interest is served by preventing taxpayer funding of research that entails the destruction of human embryos," Lamberth said
"In this court's view a stay would flout the will of Congress as this Court understands what Congress has enacted...Congress remains perfectly free to amend or revise the statute. This Court is not free to do so," Lamberth concluded.
Justice Department lawyers informed Lamberth they intend to appeal his ruling.
The ruling, which had stunned the administration, prevents any further medical research that involves the use of taxpayer dollars to fund projects requiring the destruction of embryos.
FOLLOW THIS TOPIC