Trial of Guantanamo terror suspect to resume in October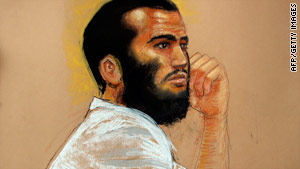 Omar Khadr, shown in a courtroom sketch from early August, was 15 when he was captured in Afghanistan in 2002.
STORY HIGHLIGHTS
The trial of Guantanamo detainee Omar Khadr was halted earlier this month
His defense attorney collapsed during a court session August 12
The trial will resume in October, with the same judge and participants on both sides
Khadr is accused of helping make al Qaeda bombs and lobbing a grenade at U.S. troops
Washington (CNN) -- The military trial of a Canadian-born terror suspect, abruptly halted earlier this month when his defense attorney collapsed, will resume October 18 at the U.S. Navy Base in Guantanamo Bay, Cuba, according to the Defense Department.
Omar Khadr's Pentagon-appointed defense attorney, Lt. Col. Jon Jackson, collapsed in the courtroom August 12 during his cross-examination of one of the second prosecution witness.
The government claims the 23-yearl-old Khadr, who was 15 when he was captured in 2002 in Afghanistan, had helped assemble and plant al Qaeda bombs in Afghanistan and that he threw a grenade that killed a U.S. Special Forces medic in a 2002 firefight.
Despite a delay of more than two months, the trial is expected to pick up where it left off. The military judge, Army Col. Pat Parrish, is still scheduled to preside, with the same panel of military officers in place as a jury and the testimony of witnesses continuing from where it was interrupted.
"This afternoon Judge Parrish held a pre-trial meeting with the defense and prosecution teams," U.S. Army Maj. Tanya Bradsher said in an e-mail message Tuesday. "October 18, 2010 was the date agreed upon by all parties."
Jackson had undergone gall bladder surgery, possibly contributing to his collapse. There was no additional information about his current condition.
The court originally imposed a 30-day recess. The latest announcement extends that but the resumption of the trial in October, indicates Jackson apparently will be physically able to continue.
FOLLOW THIS TOPIC