High seas force delay in key step needed to kill Gulf oil well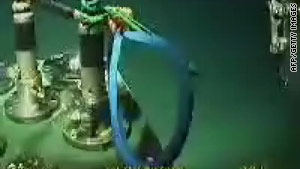 Crews plan to start work on removing the capping stack on top of BP's oil well in the Gulf of Mexico.
STORY HIGHLIGHTS
NEW: When the operation will resume depends on sea conditions
BP is preparing to replace the blowout preventer on the damaged well
Installing a new blowout preventer is a crucial step before killing the well
(CNN) -- High seas in the Gulf of Mexico have forced the postponement of an operation to remove the capping stack on the ruptured underwater oil well, detach the blowout preventer and replace it with a new one, BP said on its Twitter page Monday.
"Operations will commence as soon as sea states reach acceptable levels," the company said.
BP had planned to begin the procedure Monday, more than three weeks after plugging the ruptured well with cement and mud from above. The procedure is aimed at paving the way for a permanent fix for the well.
Retired Adm. Thad Allen had said earlier that crews would begin removing the capping stack that has trapped oil in the well since last month. That will allow them to detach the blowout preventer and replace it with a new one -- key steps before engineers use a relief well to permanently kill the well 18,000 feet below the Gulf's surface.
"We will attempt to pull it free and we are prepared to apply up to 80,000 [pounds] of force in addition to the weight of the blowout preventer to lift it," said Allen, the man charged with the government response to the oil disaster. "We call this the gentle tug."
After the relief well intercepts the well, it will take another few days to permanently seal the well with mud and cement
from below in what's called a "bottom kill" procedure.
Allen had warned Friday that changes in weather could result in a change in schedule. Last week, the operation was delayed as engineers tried to fish out pieces of drill pipe stuck inside the blowout preventer.
Officials have said the blowout preventer failed when the Deepwater Horizon drilling rig exploded April 20, killing 11 people and causing oil to gush into the Gulf of Mexico, leading to one of the worst environmental disasters in U.S. history.
Authorities from a Justice Department evidence recovery team will be on site during its removal, Allen said.
The well has been capped since July 15, and no new oil is flowing into the Gulf.
FOLLOW THIS TOPIC


Oil disaster: Tracking the numbers
Part of complete coverage on

A number of organizations are recruiting volunteers to help clean up coastal areas

Get the numbers, see the images and learn how the worst U.S. oil spill has changed lives, ruined economies and more.

These stories help us look into the lives of the hardworking people of the Gulf as they watch this disaster take its toll.

Is your area being affected by the spill? Help CNN track the oil slick and its effects on Gulf Coast communities and wildlife


Most popular stories right now