Mississippi oysters safe to eat, experts say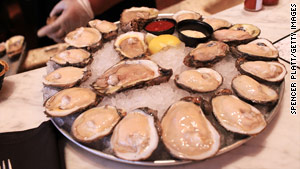 State and federal officials say that Mississippi oysters are safe to eat.
STORY HIGHLIGHTS
The state's oyster season reopens in September or October
State experts team up with federal officials to conduct tests
(CNN) -- Federal and state experts have declared Mississippi oysters safe to eat after the oil spill that gushed for months in the Gulf of Mexico.
The state's oyster season is closed during the summer and reopens in September or October.
"Like all the seafood samples collected and tested from Mississippi territorial waters since the Deepwater Horizon oil spill, our Mississippi oyster tissue samples have undergone rigorous testing, and have been proven to be well below levels of concern for hydrocarbons," said Dale Diaz, fisheries director for the state Department of Marine Resources.
The agency conducted the tests with the state Department of Environmental Quality, the National Oceanic and Atmospheric Administration, and the U.S. Food and Drug Administration. The report was released Wednesday.
The spill started after a Deepwater Horizon oil rig exploded April 20, killing 11 workers.
FOLLOW THIS TOPIC


Oil disaster: Tracking the numbers
Part of complete coverage on

A number of organizations are recruiting volunteers to help clean up coastal areas

Get the numbers, see the images and learn how the worst U.S. oil spill has changed lives, ruined economies and more.

These stories help us look into the lives of the hardworking people of the Gulf as they watch this disaster take its toll.

Is your area being affected by the spill? Help CNN track the oil slick and its effects on Gulf Coast communities and wildlife


Most popular stories right now