Ex-FEMA director doing radio show from New Orleans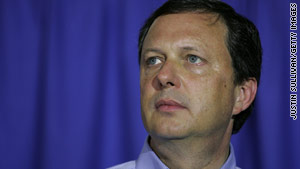 Ex-FEMA director Michael Brown, now a radio host, returns to New Orleans for the anniversary of Hurricane Katrina.
STORY HIGHLIGHTS
Former FEMA director will bring his radio show to New Orleans
Michael Brown quit amid widespread criticism two weeks after Hurricane Katrina
Then-President Bush told him. 'Brownie, you're doing a heck of a job.'
(CNN) -- Michael Brown, the Federal Emergency Management Agency leader who quit following widespread criticism of the government's response to Hurricane Katrina, is taking his radio show to New Orleans, Louisiana, on Wednesday and Thursday.
Brown, who is on KOA-850 AM in Denver, Colorado, confirmed his plans to CNN.
Brown headed FEMA under the Bush administration and became the target of critics who claimed the administration bungled its initial response. He resigned in September 2005, two weeks after Hurricane Katrina struck the Gulf Coast.
His resignation came 10 days after President Bush famously told him, "Brownie, you're doing a heck of a job."
He later accused then-Homeland Security chief Michael Chertoff and others of dragging their feet and ignoring his warnings about massive flooding.
Chertoff was criticized by a House committee in 2006 for choosing Brown to lead the government response, despite inadequate training. "If I knew then what I know now about Mr. Brown's agenda, I would have done something different," Chertoff said.

Video: 'You're doing a heck of a job'
Then-Senate Majority Leader Bill Frist visited the region soon after the hurricane hit and found the response wanting.
"Things didn't go as well as it should have," the Tennessee Republican said at the time.
Brown's program on KOA is from 9 p.m.-midnight ET.
Hurricane Katrina's fifth anniversary is Sunday.
In May, Brown said that the Obama administration wanted to use the Gulf oil disaster as a way to put an end to offshore drilling.
CNN's Jim Spellman contributed to this report.
FOLLOW THIS TOPIC