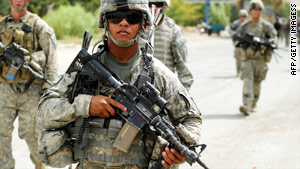 The task force recommended that all military suicide prevention be coordinated under the secretary of defense.
STORY HIGHLIGHTS
Task force finds "unprecedented demands" on military personnel and their families
"Manning levels ... remain too low to meet the ever-increasing demand," it says
Suicides continue unabated despite years of attention from the Defense Department
Washington (CNN) -- A task force assigned to study why troops kill themselves spelled out what many people have suspected for a long time: that multiple deployments to multiple wars are partly to blame for the sharp increase in military suicides.
"The years since 2002 have placed unprecedented demands on our armed forces and military families. Military operational requirements have risen significantly, and manning levels across the services remain too low to meet the ever-increasing demand," said the report, released Tuesday. "The cumulative effects of all these factors are contributing significantly to the increase in the incidence of suicide."
The Joint Department of Defense Task Force on the Prevention of Suicide by Members of the Armed Forces was created by Congress last year. It has interviewed 2,000 people, including service members, their families, behavioral health professionals and clergy.
Despite of years of attention from Defense Department leadership, the problem continues to grow. Nearly 250 soldiers, sailors, Marines and airmen have killed themselves in 2010.
At a news conference announcing the results of the task force study, its co-chairman, Maj. Gen. Philip Volpe, said, "Having any of our nation's warriors die by suicide is not acceptable. Not now, not ever. Suicide is preventable."
Other risk factors are connected to military suicides beyond multiple deployments, the task force said.
"The big ones are failed intimate relationships, overwhelming financial indebtedness and legal problems. Mix that with a little alcohol, and you've got a deadly mix," said the Rev. Robert Certain, a Vietnam veteran and former prisoner of war who is a member of the task force.
But the task force said those who may know best why troops take their own lives could not be consulted.
"Unfortunately, those who could provide the most help in understanding why people die by suicide are those who have taken their own lives and are no longer with us. However, those who have made near-lethal suicide attempts can provide important insights as well," the report said. "They describe myriad factors that contributed to their inability to find another strategy to cope with their seemingly hopeless situation. After decades of research, there is still much that is not understood about the causes of suicide and effective approaches to prevent it."
The task force indicated that while all the services have been taking a variety of steps to prevent suicide among their personnel, it recommends that all military suicide prevention be coordinated under the secretary of defense.
"The remarkable efforts of the services seemed to lack the consistency and power that could have been achieved had the policies directing the programs been centrally developed by the Office of the Secretary of Defense," it said. "The task force concluded that current service efforts would benefit from a comprehensive suicide prevention strategy, coordinated throughout" the Defense Department.
All told, the task force made 76 recommendations for reducing suicides among the military, including:
• Reducing stress on the force.
• Focusing efforts on service member total fitness (mind, body and spirit).
• Developing a comprehensive stigma-reduction campaign to encourage people to seek help.
• Coordinating and leveraging "community" health services, including off-base programs.
• Standardizing suicide investigations and expanding their focus to learn about the last hours, days and weeks preceding a suicide or attempted suicide.
• Supporting and funding ongoing Defense Department suicide prevention research to enhance knowledge and inform future suicide prevention efforts.
The report now goes to Secretary of Defense Robert Gates, who has 90 days to approve it and submit it to Congress for formal review.
FOLLOW THIS TOPIC